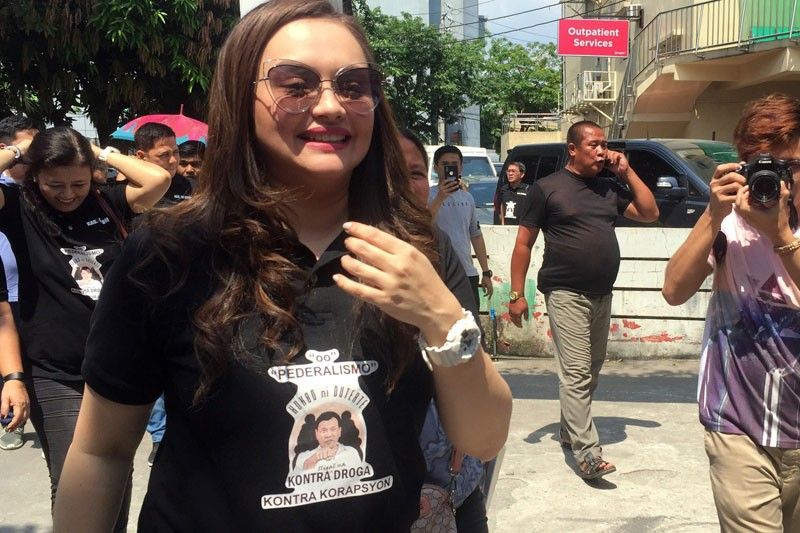 Actress Angelika dela Cruz arrives at the Comelec office yesterday to file her certificate of candidacy.
Angelika dela Cruz seeks reelection in Malabon barangay polls
MANILA, Philippines — Wearing a shirt printed with the face of President Duterte, actress Angelika dela Cruz yesterday filed her certificate of candidacy (COC) to run for reelection as barangay chair in Malabon.
Malabon residents cheered Dela Cruz as she filed her COC at the Commission on Elections (Comelec) office.
Dela Cruz led her candidates wearing black shirts with the face of the President. Their shirt expressed their support for federalism and the war on drugs.
Her shirt also bore the words "Hukbo ni Duterte" (Duterte's soldier).
Dela Cruz said she had long fought the scourge of illegal drugs in Barangay Longos, where she served as barangay captain in 2013.
She said she decided to seek reelection to experience governance at the grassroots level.
Dela Cruz said she believed in Duterte's strongman style of governance, his program for federalism and his war against drugs.
"I really do believe in what he can do with our country. We need discipline," she said.
Asked how she balances work as a local official and in show business, Dela Cruz said she only had one show and worked on television twice a week.
Dela Cruz said as barangay captain for almost five years, she implemented the Barangay Anti-Drug Abuse Council and visited drug dependents in the barangay, urging them to join the local government's rehabilitation program.
Dela Cruz said Duterte's war on drugs was his greatest achievement. "Duterte's programs changed the lives of many people," she said.
Dela Cruz was among the thousands that trooped to Comelec offices yesterday to file their COCs for the village elections on May 14.
On the other hand, a Catholic prelate kicked out officers and members of church organizations under his watch who are joining the elections.
In a rare demonstration of separation of church and state, Cubao Bishop Honesto Ongtioco issued a pastoral letter yesterday declaring officers and members of Catholic organizations under the diocese who filed their COCs as automatically resigned from their respective posts. – With Edu Punay