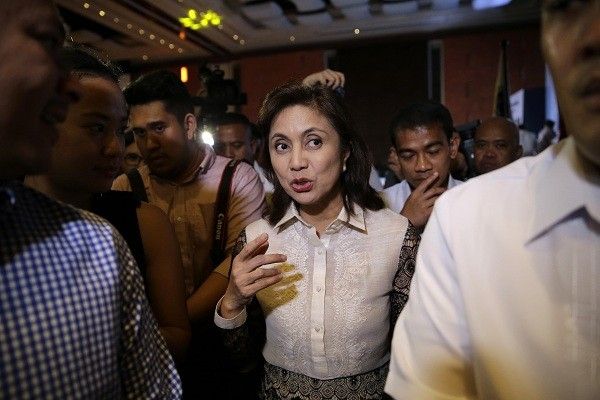 Vice President Leni Robredo on Tuesday apologized for posing and smiling at the Holocaust Memorial in Berlin Germany.
AP/Aaron Favila, File
'I take full responsibility': Robredo sorry for Holocaust Memorial photo
MANILA, Philippines — Vice President Leni Robredo on Tuesday apologized for the controversial photo of her and some opposition party mates at the Holocaust Memorial in Berlin, Germany.
Acknowledging the point of critics who found their photo inappropriate, Robredo said there was no excuse for it. She is also sorry if it has offended anyone.
"While there was no malice in it, I take full responsibility, so I would like to apologize for whatever offense to the sensitivities of the people it caused," she added.
Robredo and a number of lawmakers of the Liberal Party were called out by netizens for being "insensitive," "disrespectful" and "stupid" by posing and smiling in the Memorial to the Murdered Jews of Europe also known as the Holocaust Memorial. The vice president is the chairperson of the LP.
Other Philippine officials seen in the photo were Sen. Francis Pangilinan, Rep. Jose Christopher Belmonte (Quezon City, 6th District), Rep. Teddy Baguilat Jr. (Ifugao) Rep. Miro Quimbo (Marikina City), Rep. Jorge Banal (Quezon City, 3rd District), Rep. Kaka Bag-ao (Dinagat) and former Budget Secretary Florencio Abad.
Baguilat, who posted the photo on social media and eventually deleted it had apologized for the slip-up. He said he and his companions did not intend to demean the memorial.
"We, as human rights advocates, fully understand the plight experienced by Jews under the Nazis and we would be the last to disrespect their memory in the same way that we condemn injustice anywhere in the world, including our own country," the solon said on Twitter.
Despite the backlash, the memorial's Rules of Conduct for the Field of Stelae do not prohibit taking pictures at the site. The memorial "[honors and remembers] the up to six million Jewish victims of the Holocaust."
The LP legislators visited the memorial following a study tour for poverty alleviation in Berlin.
Robredo last Sunday also denied the accusations that she spent taxpayers' money for her trip to Germany last week. She clarified that the trip was "fully financed" by the Friedrich Naumann Foundation.
The vice president said the foundation hosts study visits for leaders in developing countries to give them the opportunity to dialogue with officials and key figures.
In 2016, President Rodrigo Duterte also drew flak when he compared his anti-drug campaign to the Holocaust.
"[Adolf] Hitler massacred three million Jews... There's three million drug addicts. I'd be happy to slaughter them," he said. The Nazi leader actually massacred around six million Jews, as well as other minorities.