Unapologetic Gadon mulls filing a disbarment case against himself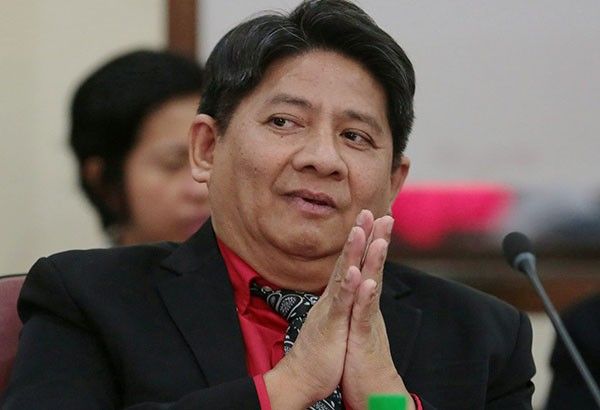 MANILA, Philippines — He does not regret his rude conduct.
An unapologetic Larry Gadon on Friday said he does not mind being disbarred after he was seen hurling expletives and flashing a middle finger at supporters of Chief Justice Maria Lourdes Sereno.
The lawyer who filed the impeachment complaint against Sereno is even contemplating of disbarring himself.
"I was thinking of actually filing a petition to the Supreme Court to disbar me. If this bar thing is the only thing that will constrain me from getting back at them, then I'd rather lose my license. I cannot allow myself to be insulted," Gadon said in an interview on ANC's "Early Edition."
He added: "And not only that, they were [also] insulting the Supreme Court, justices and even President [Rodrigo] Duterte."
Losing his bar membership does not worry him, Gadon said, because "people will remember me for being the one who boldly filed a case against Sereno unlike other lawyers who are all, I might say, cowards."
He, moreover, maintained that his behavior is not unbecoming of a law practitioner.
"At that time, passions are high. They cussed at me so I cussed back," Gadon said.
Gadon had repeatedly called the supporters of the chief magistrate "stupid" when he encountered them at the high court's Baguio compound hours before the oral argument on a separate ouster petition filed by Solicitor General Jose Calida against Sereno.
He also made the obscene gesture after the protesters heckled him.
Gadon also called someone a "son of a b****" when he was cut off by a protester.
An Integrated Bar of the Philippines executive said that Gadon could face an investigation if a person brings a complaint against him.
According to the Code of Professional Responsibility for lawyers, "a lawyer shall not engage in conduct that adversely reflects on his fitness to practice law, nor shall he, whether in public or private life, behave in a scandalous manner to the discredit of the legal profession."
Gadon is facing two disbarment cases.
The first disbarment complaint against him stemmed from his pre-election interview with GMA News TV when he made remarks seen as "hateful" to Muslims.
Last year, a disbarment complaint was filed against him for his "dishonesty, arrogance and rudeness" in the House justice committee impeachment proceedings.