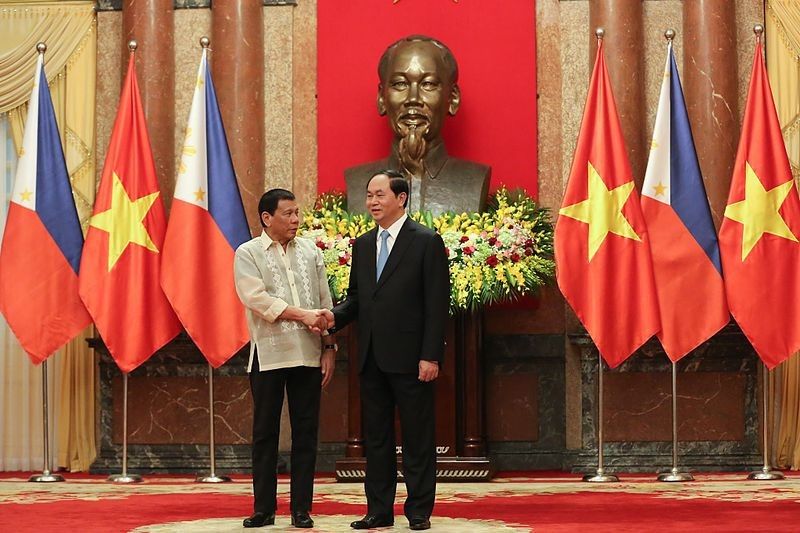 In this Sept. 29, 2016 photo, President Rodrigo Duterte shakes hands with Vietnamese President Tran Dai Quang at the State Palace in Hanoi. Presidential Photo/King Rodriguez
Expert: Malaysia, Vietnam also potential partners in sea exploration
MANILA, Philippines — Aside from China, the Philippines could also consider its Southeast Asian neighbors such as Malaysia and Vietnam for possible joint exploration in the South China Sea, a maritime law expert said.
Law professor Jay Batongbacal, director of the University of the Philippines Institute for Maritime Affairs and Law of the Sea, warned that a possible joint exploration between Manila and Beijing would be questioned before the Supreme Court.
The maritime law expert added that the issue of joint exploration in the South China Sea has not been a subject of judicial interpretation.
Batongbacal, however, noted that Malaysia has developed its petroleum industry while Vietnam has been strategic in its actions on the contested waters.
Malaysia has been able to enter into joint development with neighboring countries, including Vietnam and Thailand.
Philippines can learn from Vietnam
Meanwhile, Vietnam uses a service contract system like the Philippines does. This allows it to maximize exploration in concerned areas.
Vietnam also has more experience in dealing with China and has the resolve to pursue its own interests, Batongbacal said.
"Their moves in the South China Sea — they're all very strategic. They're always weighing options continually so even if right now they have disagreement with China, you can bet that this disagreement would not preclude all their other options," the maritime law expert told ANC's "Headstart" on Monday.
The Philippines could also learn from Vietnam in such a way that Hanoi does not change its policies with every change in administration.
"They really follow it based on a set policy, set of guidelines that's set by their party, the Communist Party," Batongbacal said.
Compared to Malaysia, Vietnam has been good at being in the "middle" ground when it comes to China, the professor said.
"Malaysia is sometimes hard to tell because they tend to be more inclined towards China but that's because China is their principal trading partner," he said.
Foreign Affairs Secretary Alan Peter Cayetano earlier said that Manila is "aggressively" pursuing a possible joint exploration with Beijing in the South China Sea.
Cayetano said that the Philippines cannot explore undisputed areas alone due to financial concerns.
"Unless we can do it by ourselves without starting a war or worse without a massacre, it will be prudent to do it in partnership without violating our sovereignty," Cayetano said in February.
Last month, Philippines' top diplomat met with his Chinese counterpart in Beijing for talks on possible joint development projects in the disputed waterway.