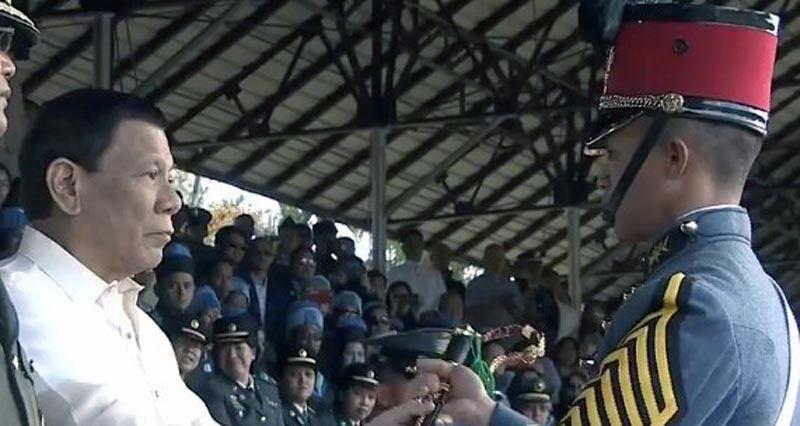 Ensign Jaywardene Hontoria is from Pavia, Iloilo. The STAR
PMA topnotcher earns commission, gets new home, set to marry sweetheart
FORT DEL PILAR, Baguio City, Philippines — Cadet Frist Class Jaywardene Hontoria got more blessings than usual upon his graduation at the Philippine Military Academy.
Aside from being set to marry his college sweetheart — Loura Fe Dillera, a registered nurse like him — and getting the Presidential Saber for graduating Number One in PMA's Alab Tala Class of 2018, Hontoria also got a free house and lot from President Rodrigo Duterte.
Vista Land Homes and Lifescapes, owned by former Sen. Manuel Villar's development company, donated the house and lot to the PMA valedictorian.
Hontoria, who is from Pavia, Iloilo, bested 281 of his "mistahs" or classmates and also brought home the Philippine Navy Saber Award, Chief of Staff Saber, Academic Group Award, Australian Defense Best Overall Performance Award, Spanish Armed Forces Award, Humanities, Natural Sciences, Social Sciences and Department of Leadership Plaques and the Jusmag (Joint US Military Assistance Group) Award.
He also made history as the third "baron" or class brigade commander of the PMA Cadet Corps in the history of the academy to graduate as valedictorian. The last time a class had a baron at the top of the class was 67 years ago.
This is the first time that a house and lot was awarded to the valedictorian of the graduating class of the PMA.
LOOK: One unit of house and lot has been awarded to Class valedictorian Cadet First Class Jaywardene Galilea Hontoria pic.twitter.com/6youu3qKjZ

— The Philippine Star (@PhilippineStar) March 18, 2018
President Duterte, commander-in-chief of the Armed Forces, is currently leading the commencement exercises of the Alab Tala Class at the Fort General Gregorio Del Pilar in Baguio City.
Alab Tala class also has the highest number of female graduates since 1993. The class has 75 female cadets, four of whom are slated to receive top awards and recognition. – with a report by Rosette Adel