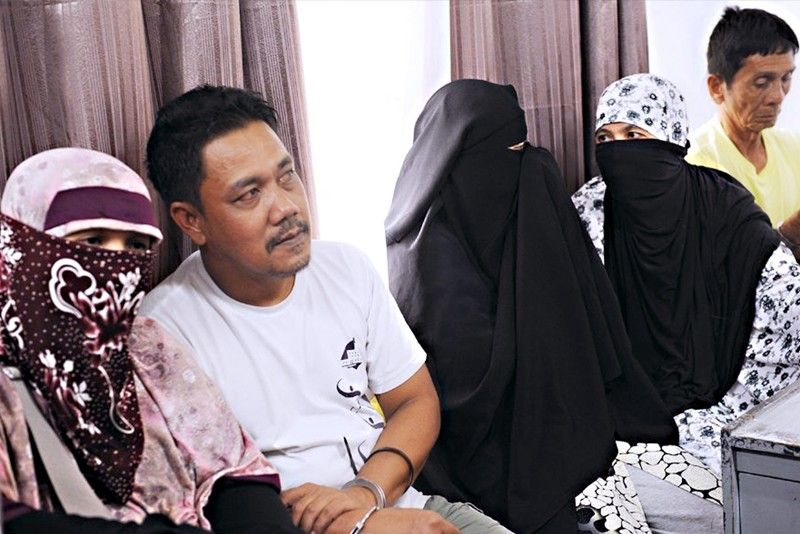 Juromee Dongon (2nd from right), widow of Jemaah Islamiyah leader Zulkifli bin Hir alias Marwan, is seen detained with four other terror suspects at the CIDG-10 headquarters in Cagayan de Oro yesterday. Gerry Lee Gorit
Marwan widow, 4 others arrested in Lanao del Norte
MANILA, Philippines — The widow of Jemaah Islamiyah leader Zulkifli bin Hir, alias Marwan, and her relatives were arrested in two separate raids in Lanao del Norte yesterday morning.
Arrested were Marwan's widow Juromee Dongon, her sisters Bebeth Dongon and Norein Santos, her father Romeo Dongon and SPO4 Andy Atta and his wife Lorilie Atta.
Authorities are investigating the extent of Juromee's participation in Marwan's terrorist activities.
Juromee was previously married to a senior leader of the notorious Abu Sayyaf kidnap-for-ransom group, Khadaffy Janjalani. After his death in 2006 she married Malaysian bombmaker Marwan, who was killed in January 2015 by the Philippine National Poice-Special Action Force in Mamasapano, Maguindanao. Muslim rebels then attacked the PNP-SAF, killing 44 policemen.
Chief Supt. Timoteo Pacleb, regional police director of Northern Mindanao, said the raids were conducted by virtue of two search warrants on the basis of the comprehensive gun control law and illegal possession of explosives.
Pacleb said Juromee was arrested at 6:22 a.m. at Purok 5, Poblacion, Tubod, Lanao del Norte after joint elements of the Lanao del Norte Police, PNP-SAF and Criminal Investigation and Detection Group (CIDG) served a search warrant against her for alleged possession of explosives and firearms.
"She assists, associates, networks and supports terrorist groups," regional police spokesman Supt. Lemuel Gonda told AFP.
"Juromee is linked with Abu Sayyaf during the time of Janjalani and then later Jemaah Islamiyah (JI)," he added, referring to the Southeast Asian militant group. Gonda said the Dongon family had "connections with terrorists."
During the raid, police also arrested the Attas couple, who were with Juromee.?The raiding team seized grenade, blasting caps, blasting cap assembly, detonating cords, plastic container, two sling bags, 9mm issued by the PNP, magazines and ammunition.
An hour earlier at around 5:10 a.m., the raiding team swooped down on Sitio Tinago, Barangay San Juan, in Baroy town. They served a search warrant against Romeo Dongon. Raiders also arrested the sisters of Juromee.
Police seized .45 caliber pistol, magazines, fragmentation grenade, blasting cup, electrical wire, handbag, a laptop, four units of cellphones and a mobile tablet.?Pacleb said all confiscated items were with CIDG Northern Mindanao for the filing of appropriate charges. The Dongons face charges of illegal possession of firearms and explosives.
Pacleb commended all personnel who took part in the operations.?"The operations will not be possible without the cooperation, coordination and collaboration of the government agencies and the community," he said.
Marwan was a leading member of JI and a suspect in the 2002 Bali nightclub bombings that killed 202 people as well as in two deadly Philippine attacks. The US had offered a $5-million bounty for him before his death in Mamasapano.
Abu Sayyaf is an Islamist militant group which was set up in the 1990s with seed money from the al-Qaeda network and has been blamed for the worst terror attacks in the Philippines, including bombings.
The Abu Sayyaf had harbored JI militants in their bases in remote southern islands, including key suspects in the Bali bombings.
Security analysts have said widows of militant leaders played important roles in extremist groups as they enhanced the status of their second husbands. – with AFP