India, ASEAN call for binding code of conduct in South China Sea
January 27, 2018 | 12:03pm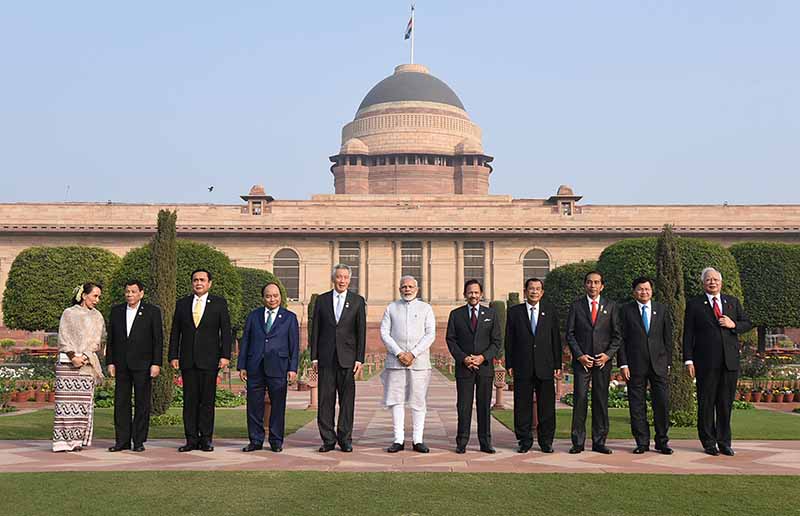 NEW DELHI – India and the Association of Southeast Asian Nations have called for the completion of a binding code of conduct for parties in the South China Sea in the face of China's aggressive expansion in the region.
In a joint statement issued after their commemorative summit here, India and ASEAN reaffirmed the importance of maintaining peace, freedom of navigation and overflight in the region and peaceful resolution of disputes in accordance with international law.
"In this regard, we support the full and effective implementation of the Declaration on the Conduct of the Parties in the South China Sea (DOC) and look forward to an early conclusion of the Code of Conduct in the South China Sea (COC)," the joint statement dubbed as Delhi Declaration read.
India and ASEAN vowed to work together on common regional and international security issues and "ensure an open, transparent, inclusive and rules-based regional architecture." The South Asian country and the regional bloc also renewed their commitment to strengthen maritime cooperation through mechanisms like the Expanded ASEAN Maritime Forum.
China claims historic rights over about 90 percent of the South China Sea, where about $5-trillion worth of goods pass through every year. The expansive claim is being disputed by Taiwan and ASEAN members Philippines, Vietnam, Malaysia and Brunei.
In 2002, ASEAN and China signed the Declaration on the Conduct of Parties in the South China Sea to highlight their aim to resolve disputes peacefully and to maintain stability in the region. However, a binding code of conduct for claimants has not been completed. A framework for the code of conduct was crafted last year.
To assert its maritime claims, China built artificial islands in Kagitingan (Fiery Cross), Panganiban (Mischief), Zamora (Subi), Burgos (Gaven), Kennan (Hughes), Mabini (Johnson) and Calderon (Cuarteron) Reefs, areas off the western province of Palawan that are also being claimed by the Philippines.
In 2013, the Philippines questioned China's maritime claim before an international arbitral court, calling it "excessive" and "exaggerated. A Hague-based arbitral tribunal ruled in favor of the Philippines three years later, saying China's historic claims in the South China Sea has no legal basis. But China refused to recognize the landmark decision, dismissing it as "a mere piece of paper."
President Rodrigo Duterte has expressed willingness to temporarily set aside the ruling to improve the Philippines' relationship with China. But he promised to bring up the issue before Chinese leaders within his term.
India, which is seeking stronger ties with its neighbors in Southeast Asia, is also involved in a border dispute with China over an area in the Himalayas.
ASEAN, India vow to combat terrorism
In the same statement, ASEAN and India reiterated their commitment to combat terrorism and to disrupt the activities of terrorists by preventing their cross border movement and their misuse of Internet including social media.
They also vowed to strengthen cooperation against terrorism financing and recruitment efforts, support the targeting of terror sanctuaries, and share intelligence information.
"There can be no justification for acts of terror on any grounds whatsoever," the joint statement said.
India and ASEAN also agreed to boost their economic cooperation through the full use and effective implementation of the ASEAN-India Free Trade Area, which removed tariffs for about 4,000 products and reduce the duties for more than 3,000 others.
They also called for the swift conclusion of a "modern, comprehensive, high quality, and mutually beneficial" Regional Comprehensive Economic Partnership (RCEP).
RCEP is a proposed free trade deal among ASEAN members, China, Japan, South Korea, India, Australia and New Zealand. Launched in 2012, the proposed agreement seeks to cover trade in goods and services, economic and technical cooperation, investments, competition policy, intellectual property rights, and dispute settlement among other aspects. ASEAN and its trading partners aim to complete the RCEP negotiations this year.
India and ASEAN likewise promised to cooperate for conservation and sustainable use of marine resources in the Indian and Pacific Oceans in accordance with international law, including the United Nations Convention on the Law of the Sea and address threats to these resources including illegal, unreported and unregulated fishing.