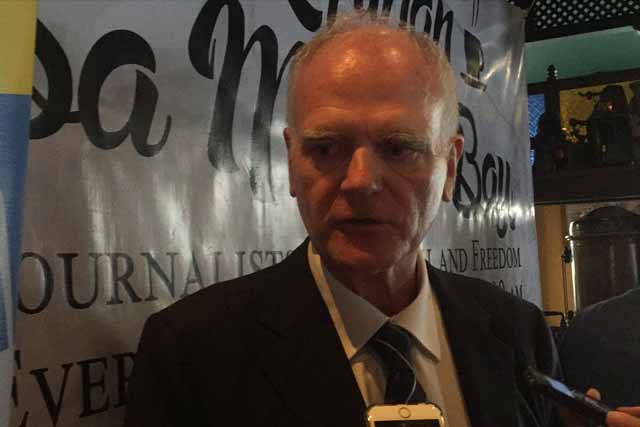 European Union ambassador to the Philippines Franz Jessen takes questions from the members of the press during the weekly Kapihan sa Manila Bay. Philstar.com/Rosette Adel
EU invites Duterte to attend Asia-Europe Meeting
MANILA, Philippines — The European Union on Wednesday said it invited President Rodrigo Duterte to visit Europe and attend the Asia-Europe Meeting in October.
At the Kapihan sa Manila Bay forum, EU ambassador to the Philippines Franz Jessen said the EU sent the invite to the Malacañang on Tuesday but there was no response from the Palace yet.
Jessen cited how Duterte has not yet been to Europe. He said the EU would be happy to have him there.
Once Duterte accepts the invitation, he is expected to visit the EU headquarters in Brussels, Belgium as well as other country members of EU.
Asked if there would be a dialogue between the Philippines and EU during Duterte's visit, Jessen said it is "a bit early to tell" and that it would depend on the request of the two parties.
ASEM is a dialogue forum to boost relations and cooperation between its partners. It was established in March 1996.
The dialogue forum is scheduled on October 18 to 19 this year.
Jessen expressed eagerness to welcome Duterte in Europe so that he could understand the perspective of the EU. He cited that bloc is currently going through change within its European societies including the immigration and he would want Duterte to be exposed in discussions on those issues to change his impression regarding the bloc.
The EU delegation head pointed out the importance of the Philippines being "fully engaged in international forum." He said the country's involvement should not stop during the chairmanship of ASEAN in the past year but continue its engagement to continue building a high profile of the Philippines.
"He's not been to Europe, and I think he's actually never been to Europe, and when you think about the importance of the EU-Philippine relationship, it is probably starting to be noticeable that we haven't had a visit from him," Jessen said.
"So I would very much like him to go there and maybe also to develop his understanding of Europe and what we're doing in Europe. We are not spending all our time criticizing the Philippines," he added.
Political analyst Richard Heydarian explained that Duterte has been unwelcoming to the bloc but the EU parliament critical of the human rights concerns on his administration is just one fraction of the bloc. He said only critical voices are being heard by the government.
Heydarian said if Duterte accepts the ASEM invite, he is expecting Duterte to drop by Vatican, visit Pope Francis, and EU countries with several overseas Filipino workers such as Italy. However, if he declines the invite he said Foreign Affairs Alan Peter Cayetano would be there to attend.