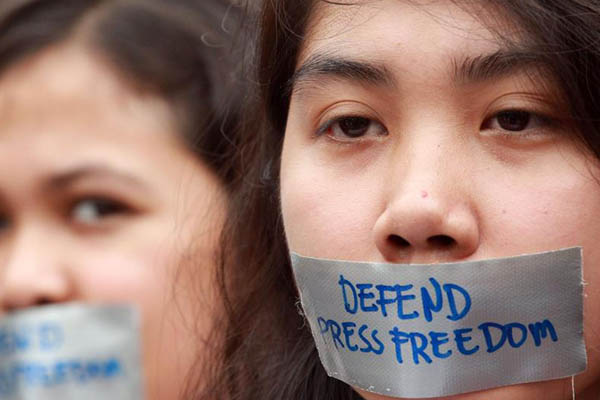 The National Union of Journalists of the Philippines will spearhead the "Black Friday Protests for Press Freedom" at the Boy Scout Circle in Quezon City today at 6 pm. STAR/Kriz John Rosales
Palace: 'Black Friday' protest shows freedom, democracy alive
MANILA, Philippines — A protest for press freedom set to be staged in Quezon City on Friday evening is a testament that freedom and democracy are alive in the country, Malacañang said.
"The Palace position on the matter remains clear and consistent: We allow public displays of constructive criticism as part of full exercise of the protesters' rights to express their grievances," Presidential Spokesperson Harry Roque said Friday.
Roque had earlier said that a government move to revoke the business registration of news website Rappler is not a form of repression. He said President Rodrigo Duterte cold have sent the armed forces to padlock Rappler's office if that were the case.
The National Union of Journalists of the Philippines will spearhead the "Black Friday Protests for Press Freedom" at the Boy Scout Circle in Quezon City at 6 pm.
"The threatened closure of Rappler has proven that Rodrigo Duterte and his minions will stop at nothing to shut down critical voices even as they rush to amend the Constitution to produce an abomination that will not only perpetuate themselves in power but emasculate our rights and liberties," NUJP said.
It added: "We cannot allow this to happen."
NUJP encouraged journalists and supporters of press freedom to wear black shirts or black arm bands wherever they go.
Ateneo de Manila's Confederation of Publications will also hold a protest at ADMU Gate 2.5 at 4 pm Friday in solidarity with NUJP's movement.
On Thursday, students from the University of the Philippines Diliman College of Mass Communication staged their own protest denouncing the latest attacks against press freedom.
News organizations both at home and abroad have also condemned closure order against Rappler, calling this a "blatant harassment" of the press.
The National Press Club has, however, said it does not count the Rappler case as an attack on press freedom as it backed the SEC decision.
The "Black Friday" mass action comes on the heels of the revocation of Rappler's registration for allegedly violating the Constitution.
President Rodrigo Duterte, who has repeatedly threatened Rappler in various speeches, denied he was behind the order.
The Justice department, on Wednesday, ordered the National Bureau of Investigation to also look into other potential cases against Rappler. On Thursday, the NBI issued subpoenas for Rappler CEO Maria Ressa, former reporter Reynaldo Santos, Jr. and Benjamin Bitanga, an incorporator of one of Rappler's shareholder, over an alleged violation of Republic Act 10175 or the Cybercrime Law.
Keng's complaint is over an article Rappler published in 2012.