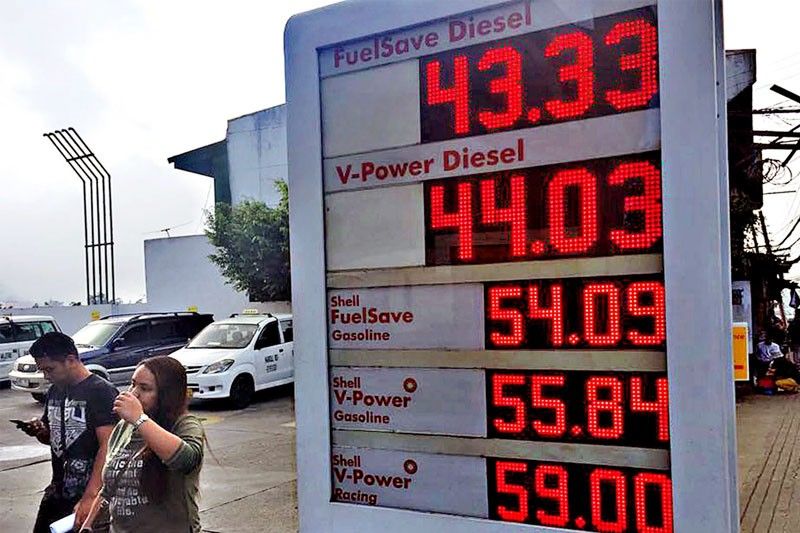 People walk past a gas station sign along Bokawkan Road in Baguio City on Tuesday. Diesel prices have increased by P5 per liter in the city due to the tax reform law, which imposed or raised excise taxes on fuel products. Artemio Dumlao
Oil firms under tight watch over excise tax application
MANILA, Philippines — The Department of Energy (DOE) has tightened its watch on oil firms amid reports that some gas stations have already increased prices including the new excise tax on fuel under the Tax Reform for Acceleration and Inclusion (TRAIN) law.
In a statement, the DOE said its Oil Industry Management Bureau (OIMB) has deployed a team of inspectors to randomly inspect the inventory of gasoline stations and depots for proper oil excise tax implementation.
The inspectors will verify if the excise tax under the TRAIN Act is actually applied on inventories beyond those existing as of Dec. 31, 2017.
"Violators may be administratively subjected to the cancellation of their Certificates of Compliance (COC)," Energy Secretary Alfonso Cusi said.
Criminal cases such as estafa and profiteering may be filed in court for violations of the Downstream Oil Industry Deregulation Act of 1998 and the Revised Penal Code, the energy chief said.
"The DOE will also endorse these violators to the Bureau of Internal Revenue (BIR) for a special audit," Cusi added.
In inspecting gasoline stations and depots, inspectors will use the Inspection Report Form (IRF), which indicates punitive measures in case of violation.
Inspectors will get the data on the inventory as of last Dec. 31 and subsequent withdrawals from those inventories to determine if the new excise tax under TRAIN is applied only to new stocks.
Upon accomplishment of the IRF, it should be signed by the OIMB inspector and confirmed by the authorized representative of the retail station or depot.
Last week, the DOE said the new excise tax on petroleum products should be applied on stocks imported starting Jan. 1 but not on old stocks.
The agency said it expects the increase in fuel prices 15 days after the start of 2018. Therefore, no fuel price increases related to the new tax regime should be implemented before Jan. 16.
Under the signed TRAIN Act, gasoline will have a higher excise tax from P4.35 per liter to P7 per liter, while new tax rates of P2.50 per liter will be imposed on diesel, P3 per liter on kerosene and P2.50 per liter on auto liquefied petroleum gas (LPG).
Based on DOE estimates, gasoline prices are expected to have an additional P2.97 per liter, diesel P2.80 per liter, kerosene P3.36 per liter, LPG for motor vehicles P2.80 per liter and LPG for household P1.12 per kilogram.
To ensure transparency and avoid profiteering, the DOE has directed oil companies to submit their inventories to be able to monitor how much stock is left in their books.
The oil companies will also require their retailers to post what products will be charged with excise tax and when it will be implemented.
Meanwhile, a group of scientists warned that the public will also be burdened with higher cost of electricity caused by the higher tax imposed on coal under the TRAIN law.
Under the TRAIN law, the coal tax increased from P10 per metric ton to P50 per MT this year. – With Artemio Dumlao