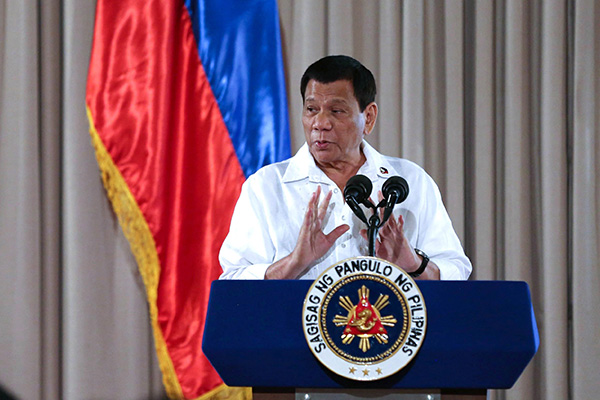 President Rodrigo Duterte, in his speech during the conferment ceremony of the 2016 Presidential Award for Child-Friendly Municipalities and Cities in Malacañan Palace on Dec. 12, 2017. Karl Norman Alonzo/Presidential Photo
Duterte gov't probing over 16,000 drug war-linked deaths as homicide, not EJK
MANILA, Philippines — More than 16,000 deaths that may be drug-related are being investigated while more than 118,000 drug offenders have been arrested since the Duterte administration launched its war on narcotics, government data showed.
Authorities are probing a total of 16,355 "homicide cases," according to a year-end report released by Malacañang.
But the number may be higher as the report only covered July 1, 2016 to September 30, 2017.
Human rights advocates classified the deaths as "extrajudicial killings," claiming that President Rodrigo Duterte's rhetoric has emboldened policemen to use shortcuts in the anti-drug crackdown.
But officials disagreed, saying "extrajudicial killings" only applies to members of cause-oriented groups, advocates of such cases, a media practitioner and those apparently mistaken or identified to be so. The definition was contained in Administrative Order No. 35 signed by former president Benigno Aquino III in 2012.
The definition served as the basis of the police in claiming that there are no cases of extrajudicial killings in the Philippines.
A total of 3,967 drug offenders were killed while 118,287 others were arrested in anti-drug operations as of Nov. 27. More than 1.3 million drug suspects have surrendered to authorities, the year-end report showed.
Government forces seized P18.92 billion worth of illegal drugs and drug paraphernalia in 79,193 operations. A total of 4,747 barangays have been declared drug-free as of Nov. 27.
More than 16,000 drug dependents are undergoing the health department's rehabilitation program. A total of 2,236 former drug users have completed the program.
More than 14,000 drug addicts who surrendered have received livelihood and skills training by the Technical Education and Skills Development Authority as of the end of September.
Presidential spokesman Harry Roque said the Duterte administration's anti-drug war has been "hugely successful."
"I think the communities are safer and our young people are better protected against drugs," Roque said in a recent interview.
Roque said he expects fewer allegations of human rights violations tied to the illegal drugs drug clampdown.
"I think it's human experience that we should hear less complaints because we know how to do it better," the presidential spokesman said.
Roque reiterated that the president does not condone extrajudicial killings and is ready to prosecute policemen or soldiers who violated the law.
Despite allegations of extrajudicial killings and abusive practices, the anti-drug crackdown remains popular among Filipinos.
Eight in every 10 Filipinos or 88 percent back the campaign, according to the Third Quarter 2017 Pulse Asia survey.
A Pew Research Center poll, meanwhile, found that 78 percent of Filipinos support Duterte's handling of the fight against narcotics.