Dev't Academy of the Philippines chief fired over foreign trips
December 20, 2017 | 4:00pm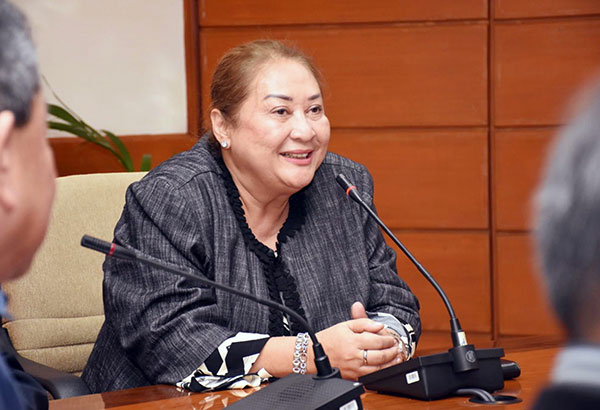 MANILA, Philippines — Eight foreign trips in eight months.
For her alleged fondness for foreign travels, another public official has been fired.
President Duterte has ordered Development Academy of the Philippines (DAP) president Elba Cruz to leave her post, days after employees of the educational institution accused her of mismanagement and frequent travels abroad.
"Considering that your term of office expired on 30 June 2017 and that you have been serving in the DAP Board in a holdover capacity, we now wish to inform you that, upon instructions of the President, your service in such holdover status is hereby discontinued effective immediately," Executive Secretary Salvador Medialdea said in a letter to Cruz dated Dec. 18.
Cruz was appointed member of the DAP board of trustees on March 14, 2017. She served an unexpired term of office that started on July 1, 2016 and ended on June 30, 2017.
Medialdea also directed Cruz to turn over all official documents, papers and properties to the DAP office to ensure uninterrupted delivery of public service.
Medialdea wrote the letter ten days after the DAP Personnel Association (DAPPER) urged Duterte to dismiss Cruz for alleged frequent travels and "many questionable moves" that were detrimental to the institution and its employees. But he did not mention the allegations against Cruz in the one-page letter.
DAPPER accused Cruz of using the threat of mass termination to silence anyone who questions her actions and of violating civil service rules by appointing non-plantilla officers to official posts.
Cruz also implemented "unauthorized" restructuring of the DAP since she assumed as its president last April, the group added.
DAPPER also claimed Cruz had gone on travels abroad every month in her eight months in office. The group branded Cruz as lacking knowledge, temperament and behavior necessary to lead any organization.
Cruz has yet to comment on the termination.
DAPPER president Gerald Cruz released to the media a copy of the letter by signed by Medialdea.
He welcomed Duterte's decision to terminate the official.
"We express gratitude to the President for the immediate action and all DAPPERs who supported our action," he told The STAR.
"We call for unity and vigilance to guard the best interest of DAP. We will demand justice, restoration of order in DAP and investigation of actions under attorney Elba Cruz," he added. – Janvic Mateo