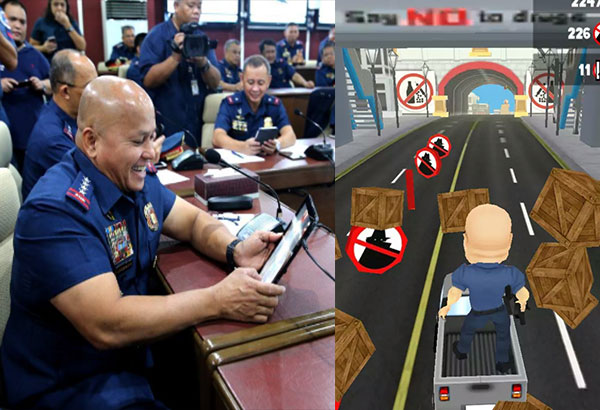 PNP chief Bato Dela Rosa during the launch of "Tsip Bato: Ang Bumangga Giba!" Twitter/PNP
Apple removes games that imitate bloody war on drugs
(Philstar.com) - November 28, 2017 - 10:16am
MANILA, Philippines — Technology giant Apple has removed mobile games that imitate the Philippine officials shooting down and catching criminals from its application store.
In a statement, the Asian Network of People who Use Drugs (ANPUD) announced that the following games can no longer be downloaded from the Apple app store:
Duterte knows Kung Fu: Pinoy Crime Fighter
Duterte Running Man Challenge Game
Fighting Crime 2
Tsip Bato: Ang Bumangga Giba
The said games featured President Rodrigo Duterte and Director General Ronald "Bato" Dela Rosa, police chief, shooting down criminals.
ANPUD said that it has not directly received a direct response from Apple or its team, but reported that the games could not be searched in its application store now.
In its letter sent to Apple, ANPUD said that the games are "unacceptable." The group said they are "disappointed as well as offended having to witness such a disgusting attempt to normalize mass murders and impunity through virtual games available in the App store."
Dela
Rosa, at a chance interview at the Supreme Court, lamented that ANPUD may have had a wrong idea about the government's drug war that only involves killings.
He said: "Mali man yun na interpretation sa Tokhang. Hindi naman patayan ang Tokhang. Makikiusap lang. Kakatukin ang bahay ng person of interest, na please itigil mo ang involvement sa drugs."
(That is a wrong interpretation of Tokhang. Tokhang does not involve killings. Police will only knock at the house of a person of interest and request the resident to stop being involved with drugs.)
Dela Rosa, during the launch of the game October last year, was seen enjoying the mobile application.
The endless runner game titled, "Tsip Bato Ang Bumangga Giba" allows you to catch criminals (in green masks), while avoiding obstacles like pedestrians and other vehicles. You can move the character by swiping on your phone screens.
Duterte easily won over more than 16 million votes in the campaign last year with a promise to ruthless rid the country of drugs.
Duterte's campaign courted criticism from local and international human rights groups due to the more than 12,000 deaths under the continuing drug war.
The police chief on Tuesday faced the Supreme Court as it tackled consolidated petitions challenging the constitutionality of the government' drug war.