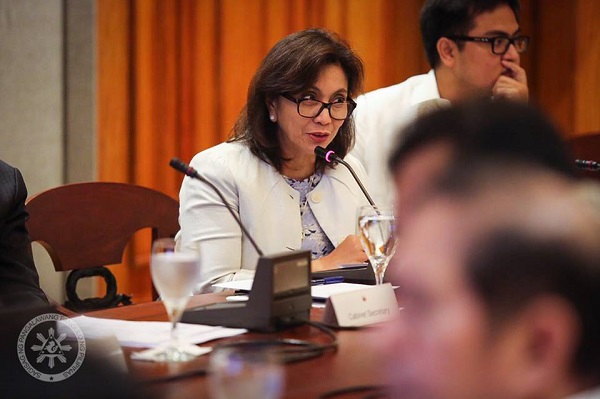 Vice President Leni Robredo was not given a role during the country's hosting of the Association of Southeast Asian Nations (ASEAN) summit for the second time this year, but the Vice President said this was "no big deal." OVP Photo/Released
Leni backs Duterte's policy to boost MSMEs
Helen Flores
(The Philippine Star) - November 15, 2017 - 4:00pm
MANILA, Philippines — Vice President Leni Robredo has backed President Duterte's policy of boosting micro, small and medium enterprises (MSMEs), which account for more than 99 percent of the businesses and provide more than 65 percent of employment in the country.
Robredo was not given a role during the country's hosting of the Association of Southeast Asian Nations (ASEAN) summit for the second time this year, but the Vice President said this was "no big deal."
Speaking at the ASEAN Business and Investment Summit on Tuesday, Robredo underscored the importance of creating an inclusive business environment, especially for MSMEs, in Southeast Asia.
"For too long, the world has treated micro-, small- and medium-scale enterprises with casual concern, their small economic footprint keeping them in the little boy's room, unable to participate in global discussions. But if we are to solve inequality, we must ensure that MSMEs benefit from unclogged value chains, fair trade and peace," she said.
The Vice President said the vision of a single market under the ASEAN economic integration will benefit MSMEs most of all as it will allow people, goods and services to move freely across borders.
Robredo said efforts must be put in place to ease the difficulties posed by non-trade measures and non-trade barriers on businesses looking to cross borders.
She also lauded business leaders from different parts of the region for "responding to the call of the times" by opening their value chains to smallholders, micro and small businesses.
"You are empowering many of those who have previously been left behind by progress and globalization: farmers, fisherfolk, women and even indigenous peoples. Truly, the power of the entrepreneurial spirit can move our world," Robredo said.
The Vice President said ASEAN stands as the sixth largest economy in the world as a regional bloc, with a combined gross domestic product of $2.55 trillion.
"The best is yet to come. This is the age of Asia. Let the dragons and the tigers claim this century and, in the process, show the world how it is possible for our economies to grow wealth and spread it equitably," she said.