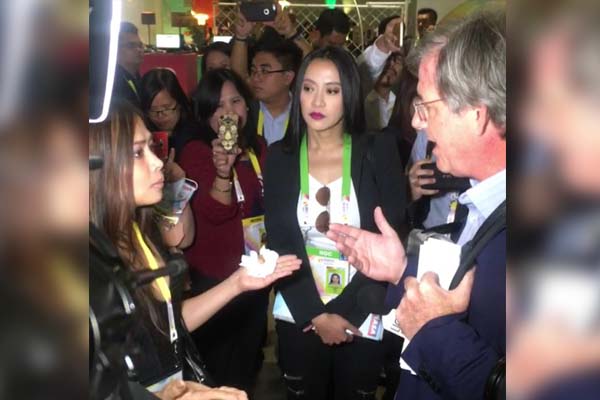 Blogger Sass Rogando made a scene at the ASEAN Summit's International Media Center at the World Trade Center in Pasay City when she questioned a BBC journalist over an interview with known Duterte critic Jover Laurio. Screengrab
Pro-Duterte blogger confronts BBC journalist
Janvic Mateo
(The Philippine Star) - November 13, 2017 - 4:00pm
MANILA, Philippines — A supporter of President Duterte yesterday confronted a British journalist covering the leaders' summit of the Association of Southeast Asian Nations (ASEAN) and its dialogue partners.
Blogger Sass Rogando made a scene at the ASEAN Summit's International Media Center at the World Trade Center in Pasay City when she questioned a BBC journalist over an interview with known Duterte critic Jover Laurio.
Rogando claimed that Laurio, the person behind critical website Pinoy Ako Blog, received support of a "powerful group" that enabled her to get the BBC interview last month.
The blogger later admitted that the BBC journalist was not the right person to talk to after the latter clarified that he was not part of the team that interviewed Laurio.
Communications assistant secretary Mocha Uson was beside Rogando during the confrontation.
On social media, videos of the incident received mostly negative response from netizens, calling out the blogger for her behavior.
"Sweetie, last year BBC tried to get in touch with me for an interview, too. If they want to talk to you, they will find you. Do the math," actress Agot Isidro tweeted, in apparent reaction to the incident.