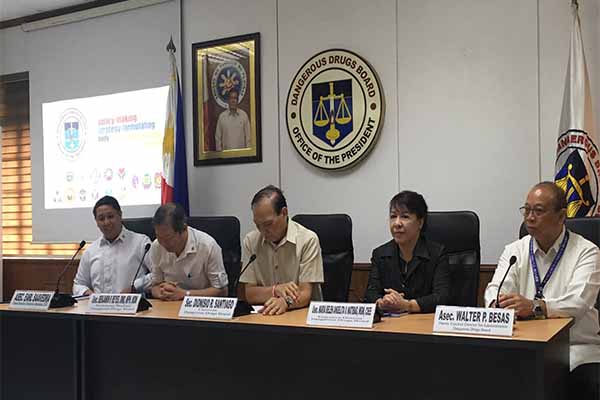 The Dangerous Drugs Board on Tuesday said that it will launch its "Love Life. Fight Drugs" campaign that "aims to change the prevailing law enforcement focused narrative of the anti-drug campaign." The STAR/Janvic Mateo
DDB to launch 'Love Life. Fight Drugs' to change 'narrative' around drug war
(Philstar.com) - October 30, 2017 - 8:41am
MANILA, Philippines — The Dangerous Drugs Board wants to change the "narrative" surrounding the government's war on drugs by launching the "Love Life. Fight Drugs" campaign.
DDB Chairman Dionisio Santiago on Monday said the board is gearing up for the launch of its new campaign "Love Life. Fight Drugs" that would focus on the government's "left-hand approach" in its crackdown on illegal drugs.
"The fight against drugs is about protecting the life of the people. It is about the life of a drug user who needs help to free himself or herself from drug independence. It is about protecting the life of people against the threats of drugs," Santiago said.
President Rodrigo Duterte won the presidency May last year with the promise to ruthlessly rid the country of drugs and criminality.
Roughly 16 months into the government's bloody war, the Philippine National Police has recorded more than 3,000 deaths under investigation, but human rights groups tally the deaths at more than 13,000.
Criticism of the government's crackdown on drugs, which has subsided over the past months, reignited with the death of three teenagers, including 17-year-old Kian Delos Santos, in August.
United Nations special rapporteur Agnes Callamard called Delos Santos' death as a turning point in Duterte's drug war.
Santiago said the board would also focus on a "left-hand approach" such as "preventive education, advocacy and civic awareness programs that aim to prevent people from abusing drugs and enlist their participation in the anti-drug campaign."
The board would also "facilitate capacity-building of organic and related personnel involved in the enforcement of drug laws and prosecution of drug cases, and rehabilitation of drug offenders and their reintegration into mainstream society."
It would also tap the help of the private sector to launch national and local community drug abuse prevention control programs and projects.
The new campaign would be launch in November, in time for the celebration of the Drug Abuse Prevention and Control Week.
The board would also hold a fun run, an anti-drug fair and exhibit, an anti-drug concert and livelihood and skills training programs.