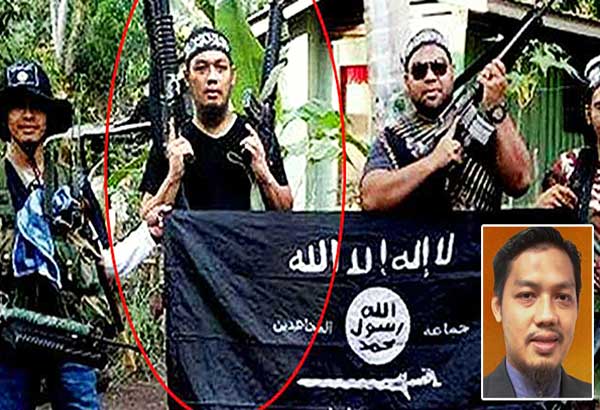 Malaysian Mahmud Ahmad, the alleged financier of the Maute group (center and inset) poses with other Islamic militants in Mindanao.
Military trumpets Mahmud's death but remains yet to be recovered
(philstar.com) - October 20, 2017 - 8:56am
MANILA, Philippines — A top Malaysian terrorist who played a pivotal role in financing the bloody Marawi siege and was seen to become the Islamic State's point man in Southeast Asia has been neutralized, but his remains are yet to be found.
According to Maj. Gen. Restituto Padilla — spokesperson for the Armed Forces of the Philippines — "first-person account" of a hostage "confirmed" that Malaysian Mahmud Ahmad was among the 12 ISIS-linked militants who were killed in a military operation on Wednesday.
Padilla said the hostage "saw the events unfolding," adding that troops are "on the process of recovering the body of Dr. Mahmud" from the battle site.
"This was also reported by the Chief of Staff and some of the good developments also from Marawi itself is the rescue of hostages," Padilla told reporters in a news briefing on Friday.
The military's confirmation of Mahmud's death came after President Rodrigo Duterte himself announced on Thursday night that advancing troops have succeeded in killing the Malaysian extremist.
The President also mistakenly identified Mahmud as an "Arab."
Shortly after the president's announcement, Padilla confirmed Mahmud's death to reporters via text message. "Hostages rescued know who he is and reported he was killed last night," Padilla said.
But earlier in the day, AFP chief Gen. Eduardo Año said that the military is yet to confirm "with finality" Mahmud's death, although the armed forces is "increasingly becoming confident" that Mahmud has been killed.
If verified, Mahmud's death would be a major blow to any effort by ISIS to establish a caliphate in Mindanao as the dreaded Middle East-based terror group struggles to maintain its foothold in Syria and Iraq.
According to Deputy Commander Joint Task Group Ranao Romeo Brawner, forensic experts of the Scene of the Crime Operatives will determine the identity of the cadavers through analysis once authorities retrieve them.
On Monday, military sharpshooters killed Abu Sayyaf leader Isnilon Hapilon and Omarkhayam Maute, one of two Middle East-educated heads of the Maute terror group, in a pre-dawn operation.
The Marawi battle, which broke out on May 23, prompted Duterte to place the entire Mindanao region under martial law and order aerial and artillery bombing of the enemies' positions, sending them into retreat but leaving the city in ruins.
READ: Military: Hapilon, Maute deaths may turn terrorists 'more violent'