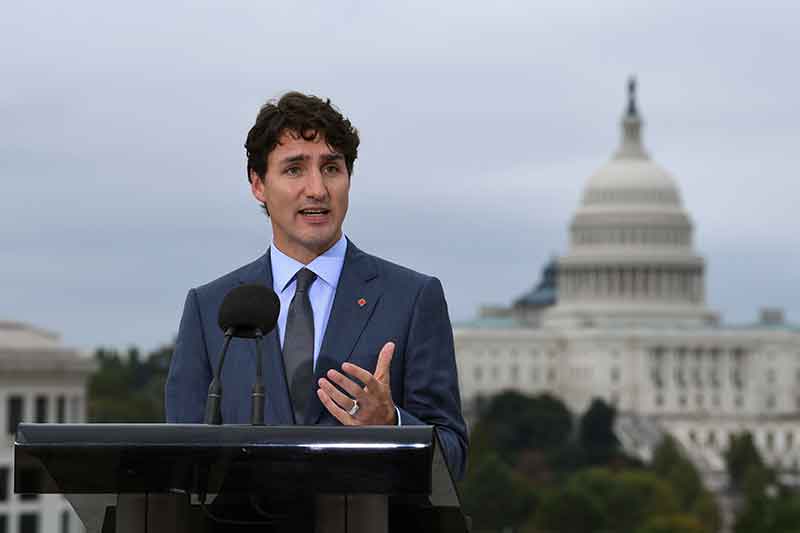 Canadian Prime Minister Justin Trudeau speaks during a news conference at the Canadian Embassy in Washington, Wednesday, Oct. 11, 2017. Earlier in the day, Trudeau meet with President Donald Trump. The meeting between the two North American leaders comes at the start of a new round of talks over the North American Free Trade Agreement, which Trump has threatened to withdraw from unless he can get a better deal. AP/Susan Walsh
Canada's Trudeau expected to attend ASEAN summit in Manila
MANILA, Philippines — Canadian Prime Minister Justin Trudeau is expected to attend the ASEAN Summit in Manila, the Philippines' top diplomat confirmed Thursday.
Last August, President Rodrigo Duterte issued an invitation for Trudeau to attend the summit in November as guest of the chair.
"Yes, we're expecting Trudeau," Foreign Affairs Secretary Alan Peter Cayetano told reporters at the sidelines of the ASEAN High Level Forum on Thursday.
Trudeau may attend the ASEAN-Canada 40th anniversary commemorative summit which is scheduled on November 14.
Cayetano also said that United Nations Secretary General António Guterres has confirmed his attendance for the summit.
Chinese President Xi Jinping and Russian President Vladimir Putin, however, might not attend the meetings in Manila as they will also participate in the Asia-Pacific Economic Cooperation (APEC) meetings in Vietnam.
"President Xi Jinping will be in APEC while Premier Li (Keqiang) will be here. I think President Putin will be in APEC and then sa atin naman si Prime Minister (Dmitri) Medvedev," Cayetano said.
The Department of Foreign Affairs is yet to release the final list of the heads of state who will be attending the ASEAN Summit in Manila.
Heads of state from ASEAN member states and major dialogue partners such as the US, Russia, China, Japan, South Korea, Australia and New Zealand are expected to attend the meetings.
The European Union has also been invited as guest of the ASEAN chair.
RELATED: Trump to hold bilateral meeting with Duterte in Manila