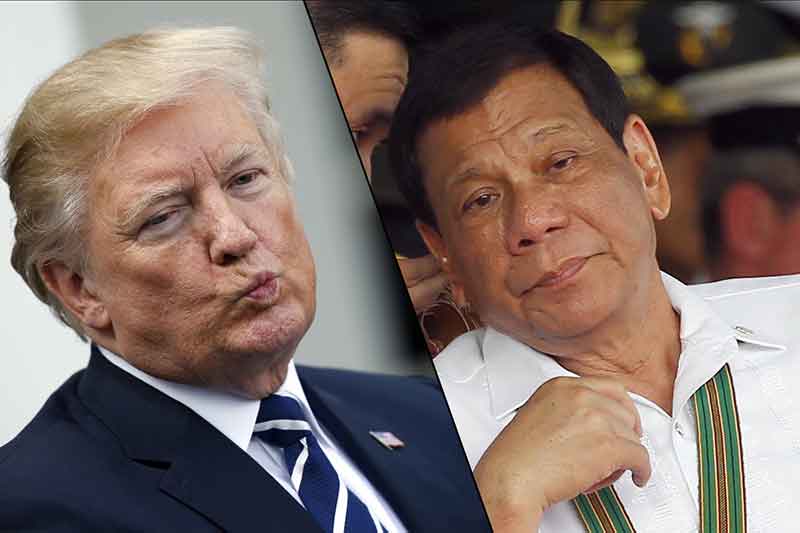 US President Donald Trump is set to meet with President Rodrigo Duterte on November 13 as he attends the ASEAN Summit in Manila. AP/Alex Brandon, Bullit Marquez
Trump to hold bilateral meeting with Duterte in Manila
MANILA, Philippines — US President Donald Trump is scheduled to hold bilateral meetings with President Rodrigo Duterte and other leaders as he visits Manila next month.
The Philippines would be one of Trump's stops as he embarks on his Asian trip from November 3 to 14, the White House said.
The American leader is expected to arrive in Manila on November 12 to attend the special gala celebration dinner for the 50th anniversary of the Association of Southeast Asian Nations.
The Philippine government earlier said that Trump will receive a "very warm welcome in Manila."
"President Duterte is looking forward to welcoming President Trump in Manila. Our people are excited to see the first face-to-face meeting between our two leaders," Foreign Affairs Secretary Alan Peter Cayetano said in a statement released September 30.
READ: Philippines welcomes Trump's November visit
Trump will also attend the 40th anniversary of US-ASEAN relations during the US-ASEAN Summit on November 13.
The US president will also travel to Japan, South Korea, China, Vietnam and Hawaii.
"The President's travel will underscore his commitment to longstanding United States alliances and partnerships, and reaffirm United States leadership in promoting a free and open Indo-Pacific region," the White House said in a statement.
Trump's will first visit Hawaii to receive a briefing from the US Pacific Command and visit Pearl Harbor and the USS Arizona Memorial.
On November 5, he will begin his visit to Asia with Japan and participate in bilateral meetings with Japanese Prime Minister Shinzo Abe.
Trump will also hold bilateral meetings with South Korean President Moon Jae-in, Chinese President Xi Jinping and Vietnamese President Tran Dai Quang.
He will participate in the Asia-Pacific Economic Cooperation Economic Leaders' Meeting in Danang, Vietnam.