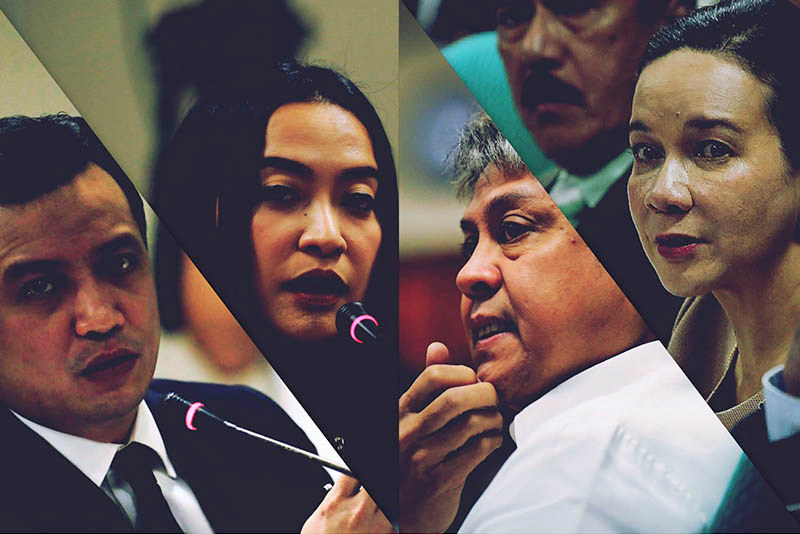 Sen. Sonny Trillanes, PCOO Assistant Secretary Mocha Uson, Sen. Kiko Pangilinan and Sen. Grace Poe at the Senate probe into the proliferation of fake news on Wednesday, Oct. 4, 2017. Original photos by Senate PRIB
Hits, misses of first Senate probe into fake news
MANILA, Philippines (First published on Oct. 5) — The Senate mass media panel on Wednesday missed crucial questions and issues as senators aired their grievance over allegedly being a target of "fake" information and so-called digital influencers defended their online activities.
Pro-administration bloggers who are now part of government took pains at the Senate explaining their controversial social media posts, which many say are linked to the massive spread of "fake news," or information that turned out to be false or misleading.
The proliferation of fake news has been widely seen by experts as a major global threat with its ability to manipulate elections and imperil democracies.
"If purveyors are allowed to get away with their lies, they embolden government officials to also lie in order to escape accountability, crush dissent and commit illegal acts with impunity," said Sen. Grace Poe, chair of the Committee on Public Information and Mass Media.
Senate's investigation into the issue was launched Wednesday after senators themselves claimed they were victims of peddlers of fake news.
Presidential Communications Operations Office Assistant Secretary Mocha Uson and Department of Foreign Affairs consultant and pro-Duterte blogger Rey Joseph Nieto appeared at the Senate hearing on fake news—which was driven by seven senators' gripe against a blog that criticized them for not signing a resolution condemning the killings amid the war on drugs, particularly of young people.
Aside from bloggers and some members of Malacañang's communications team, lawmakers also invited senior journalists and lawyers to the first public hearing. Google Philippines Representative Elaine Marie Collado and Twitter Representative Kathleen Reen were also asked to take part in the probe.
READ: Senators berate Mocha, other pro-Duterte bloggers
Hits
For their part, Uson and Nieto argued they are not prohibited from maintaining their respective blogs since this is an exercise of their right to free speech and expression.
Uson, meanwhile, said blogs were opinion-based and they did not have the obligation to get the other side, being non-journalists. She also cried foul over a report against her and asked journalists to be fair in reporting.
But some senators did not buy Uson's explanations.
In response to the blogger turned PCOO official, Sen. Bam Aquino hit back at Uson for demanding fairness when she herself does not air the sides of the opposition in her blog posts.
"In your case, never ka humingi ng side ng lahat ng mga nilagay mong blog dito. In fact, just the other day may blog ka sa minority. May isang beses ka bang humingi ng side namin?" Aquino asked Uson.
Uson, in turn, vehemently declined to answer whether she ever tried to get the side of the opposition before posting against them.
"I refuse to answer the question," she said. "I have the right to refuse that question."
Sen. Nancy Binay, for her part, had to ask Uson to make up her mind on whether she would be a blogger or a public official.
"Since we're all government officials, she cannot use the excuse of doing things in her capacity as a private individual. At this point, you cannot separate your being a blogger from being an assistant secretary," Binay told the PCOO official, adding:
It's high time for you to decide if you want to be an (assistant secretary) or if you want to be a blogger.
Misses
After several hours of hearing, the senators, however, were at a loss as to how the problem could be curbed, given its magnitude and effects without imposing censorship.
Role of bots and trolls
At the hearing, Poe also noted that fake news has become pervasive through the use of so-called bots and trolls, which she said can "sway" public opinion and shape public discourse, thereby affecting social interaction and influencing government.
Interestingly, for former Ateneo school of government dean Tony La Viña, the Senate's investigation was bereft of thorough discussion on the role of bots and paid rolls in the proliferation of fake news.
"I think the hearings should have also touched on bots and paid trolls which amplify the problem of fake news," La Viña, who was among the invited resource persons at the Senate inquiry, said in an interview.
According to a study by the Indiana University in Bloomington, social bots are an "effective" tool to manipulate social media and "deceive" their users.
"First, bots are particularly active in amplifying fake news in the very early spreading moments, before a claim goes viral. Second, bots target influential users through replies and mentions. Finally, bots may disguise their geographic locations," the study said.
"As a result, the virality profiles of false news are indistinguishable from those of fact-checking articles. Social media platforms are beginning to acknowledge these problems and deploy countermeasures, although their effectiveness is hard to evaluate," it added.
Meanwhile, a University of Oxford study found that $200,000, around P10 million, was spent to hire trolls who would spread propaganda for President Rodrigo Duterte and target his opposition.
The study said fake accounts, which, in many cases, are "bots"—bits of code designed to mimic human users—were also found to have been deployed in the Philippines.
These were often used to flood social media networks with spam and fake news—propaganda made to seem like legitimate news articles—and inflate the number of likes, shares and retweets to create "an artificial sense of popularity, momentum or relevance."
"Social media has become a valuable platform for public life. It is the primary medium over which young people, around the world, develop their political identities and consume news. However, social media platforms—like Facebook and Twitter—have also become tools for social control," the study said.
Reacting to an Oxford University research, Duterte, in a media interview last July said: "Perhaps during the elections… and they were all during the campaign. But I do not need that now."
READ: Rody: I don't need online trolls, defenders
Factoring in 'ignorance, arrogance'
"I'm disappointed. Talagang malaking disappointment," veteran journalist Ellen Tordesillas, who also attended Wednesday's Senate probe, said in an interview with ANC on Thursday when asked if she was satisfied with the investigation.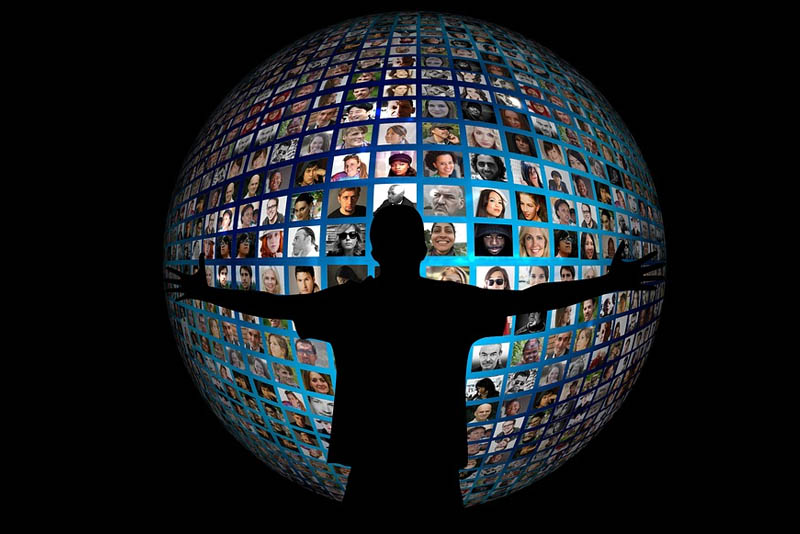 The role of fake news in a properly functioning democracy has been the subject of much discussion globally.
"Tsaka ang nakita ko don kahapon, 'yung what really worried me was that nakita ko doon 'yung depth of the ignorance of some senators and the height of arrogance of some public officials who were there," she added.
Tordesillas also called out Poe for praising Nieto, who runs a pro-Duterte blog called "Thinking Pinoy," for his supposed "excellent research" and "neutrality." Nieto, like Uson, has also been accused of propagating fake news or disinformation online.
"[Poe] could have controlled the discussion. One, bilib na bilib siya kay Thinking Pinoy," Tordesillas said.
"Your president is the number one source of fake news. Vehicle lang yan sila—mga social media, mga bloggers niya. They are vehicles yan sila," she added.
Education of influencers, role of legislation
Sought for comment, Luis Teodoro, former dean of the University of the Philippines College of Mass Communication, said that while he was "partly" satisfied with Poe's "sober approach" during the probe, the lady senator should have pushed for the "education of bloggers."
"She could have argued for the education of bloggers in the ethics and professional standards of communication," Teodoro said.
Asked what other points were missed during Senate's inquiry on false news, Teodoro said: "Among others the impact of a bill penalizing fake news disseminators on press freedom and free expression."
"Also, who or what is going to decide what fake news is? A government agency?" he added.
In June, Sen. Joel Villanueva filed a bill that will penalize persons or entities that publish and distribute false news in different media as the spread of spurious information continues to pose a serious concern.
A measure also seeking to penalize peddlers of fake news was also filed in the House of Representatives by Camarines Sur Rep. Luis Raymund Villafuerte.
But on Wednesday, Duterte said he was pessimistic about having a law to stop the spread of fake news.
"I am sure they cannot pass a law against fake news because if you write an opinion… (You cannot) draft a law to set standards – that will kill freedom of expression," the president said.
READ: Duterte: I am sure they cannot pass a law banning fake news
The Senate will hold another hearing on the spread of fake news. — Video report by Efigenio Toledo IV