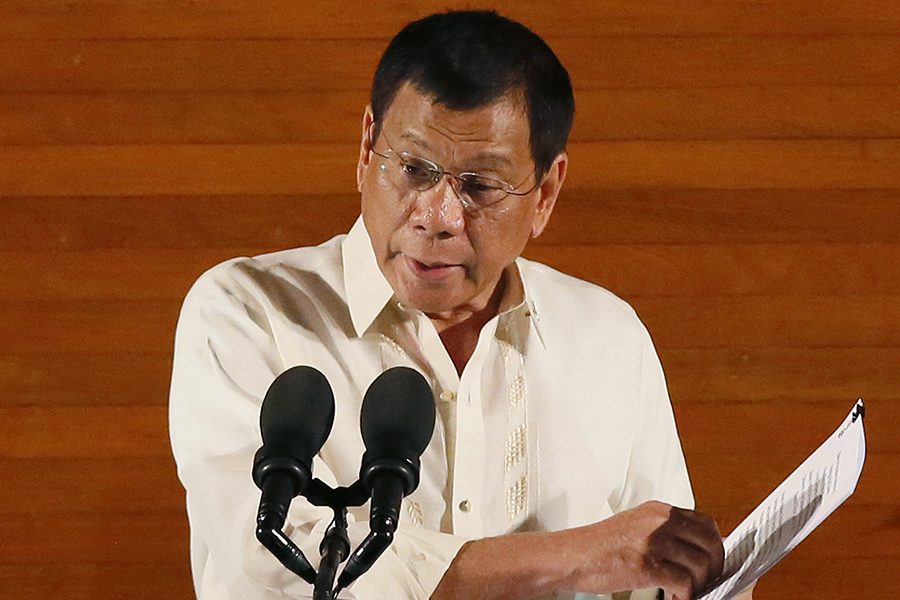 "I am sure they cannot pass a law diyan sa fake news," President Rodrigo Duterte said during his meeting with family of hazing victim Horacio Castillo III in the Malacañan Palace. AP/Bullit Marquez, File photo
Duterte: I am sure they cannot pass a law banning fake news
(Philstar.com) - October 4, 2017 - 1:52pm
MANILA, Philippines — President Rodrigo Duterte on Wednesday said he doubts that Congress could pass a law prohibiting the proliferation of fake news, arguing that such a move would impair the people's freedom of expression.
Duterte made the remarks as Senate started an inquiry into the spread of false news on social media.
"I am sure they cannot pass a law diyan sa fake news," Duterte said during his meeting with family of hazing victim Horacio Castillo III in the Malacañan Palace.
"Ah, patay. That seems to be… Patayin ang freedom of expression. Hindi lulusot iyan. Kaya magtatanong ka," he added.
The era of fake news may soon be over if a bill filed in the House of Representatives becomes a law.
READ: Stiff penalties vs creators, purveyors of fake news sought
The measure seeks fines and imprisonment of up to six years for creators and purveyors of fake news, which is increasingly becoming prevalent on social media.
Camarines Sur Rep. Luis Raymund Villafuerte, author of House Bill 6022, said his proposed law aims "to rid both the traditional and social media of fictitious or misleading reports that are being manufactured and passed on to the public as legitimate information."
He said his bill "penalizes not only the creation of false content and its malicious distribution but also failure to remove such content once it has been published."
Despite his opposition to any measure that would ban fake news, Duterte urged the public to be "responsible."
"Ngayon, kung gusto mo, pass a law increasing the penalty tutal you have slander, you have libel, civil case. Marami diyan," he said.
"But to prescribe a set of groups of what is proper or not, wala ito. Hindi lulusot iyan. Pati ako pagdating sa akin," he added.