EU: Philippines should not be surprised over final report on compliance with GSP+ conditions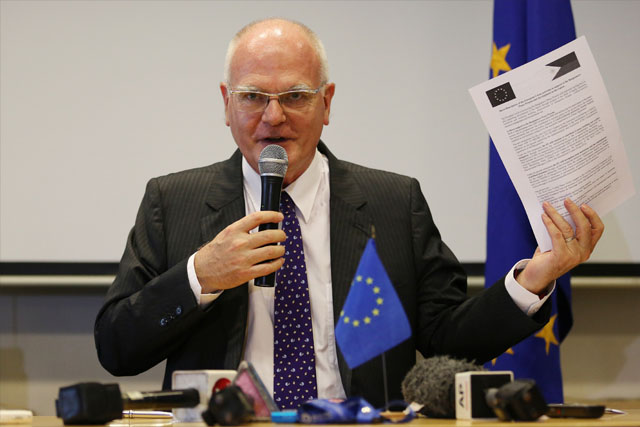 MANILA, Philippines — The European Union in the Philippines on Wednesday said the Philippine government should not be surprised over the outcome of the bloc's review on Manila's compliance with its conditions for trade perks, which included adherence to human rights and rule of law.
The Philippine government recently said it is seeking the expansion of the General System of Preferences Plus (GSP+) from EU amid concerns the present set of privileges would be removed in protest over the alleged extrajudicial killing cases in the country.
Citing the "very good" dialogue between EU and the Department of Trade and Industry regarding GSP+, EU envoy to Manila Franz Jessen said: "There will be no surprises for them in their final report."
"We made sure that we have an ongoing dialogue. The idea is to work hand in hand to make progress in different issues," Jessen added.
The Philippines was granted beneficiary country status under the EU-GSP+ in December 2014, allowing it to export 6,274 eligible products duty-free to the EU market.
But the alleged cases of extrajudicial killings in the country as part of President Rodrigo Duterte's drug war, however, has put at risk the country's GSP+ privileges.
The country's beneficiary status under the GSP+ necessitates the implementation of the 27 international treaties and conventions on human rights, labor rights, environment and governance.
Results of the latest GSP+ review is expected to come out in January next year.
According to Jessen, "the picture is mixed" when it comes to the Philippines' compliance with EU's conditions.
"What we have seen is there has been good progress in some areas and less progress in other areas," he said.
Nonetheless, the diplomat said that "no country, no region is perfect" as he underscored the importance of monitoring the Philippines' human rights situation.
"We all have issues and in any place, in any time, the important thing is how these different issues are being tackled and addressed by the court system, by the legal system and also by the political system," Jessen added.
Last month, the House of Representatives voted to give the Commission on Human Rights, which has been critical of the government's brutal drug war, a P1,000 for 2018. Lawmakers later decided to restore the agency's original budget, but slashed it from P623.3 million to P508.5 million.
Meanwhile, the Philippines recently claimed a "big victory" following the review of its human rights record before the United Nations Human Rights Council despite the disappointment of several states over its rejection of key recommendations they made.
Filipinos have mostly backed Duterte's drug war even as critics condemned the supposed extrajudicial killings by cops carrying out the deadly campaign. But the recent deaths of three teenagers in the country's capital have triggered rare street protests and highlighted concerns about alleged police abuse.