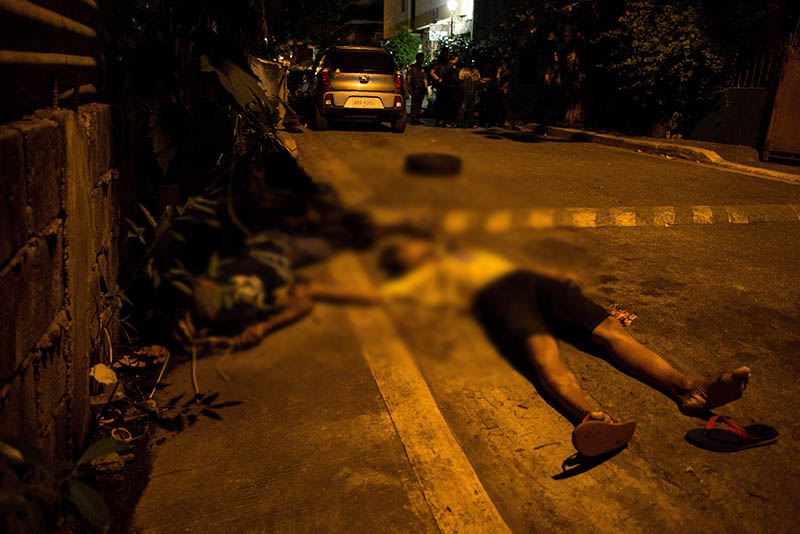 This file photo taken on Aug. 17, 2017, shows the bodies of alleged drug dealers on the road during a police anti-drug operation in Manila. Nearly half of Filipinos believe police are killing innocent people in waging President Rodrigo Duterte's anti-drugs war, according to survey results released Wednesday. AFP/Noel Celis
'Spin' can't conceal human rights situation, says group
(Philstar.com) - September 29, 2017 - 8:10am
MANILA, Philippines — The joint statement of 39 nations expressing concern over the rising number of drug-related killings and calling on the government to ends these deaths debunked the country's "accomplishments" at the recent United Nations Universal Periodic Review, a human rights group stressed on Friday.
Human rights group Karapatan said that "no amount of media spin by the Duterte administration can unmake the unmistakable reality of the human rights situation on the ground."
"Its repressive and anti-people programs such as the drug war, the martial law in Mindanao and the continuing implementation of the counter-insurgency programs impact heavily on the climate of impunity in the country and that the situation is spiralling to very dangerous levels, especially with threats on a nationwide martial law," the group said.
Iceland, on behalf of the other 38 nations, said the Philippine government should welcome a visit of UN special rapporteur on extrajudicial executions Agnes Callamard without conditions or limitations.
READ: 39 countries worry about killings, climate of impunity in Philippines
Last week, the country claimed a "big victory" after the review of its human rights record at the UN Human Rights Council despite the disappointment of several states over its rejection of key recommendations they made.
The Philippine delegation at the session in Geneva accepted only 103 out of 257 recommendations made by member-states for UPR in the same venue last May, rejecting calls to investigate the thousands of deaths in the administration's brutal drug war.
Detained Sen. Leila de Lima, a known human rights defender, called the government's supposed excellent performance at UPR "fake news."
"With the refusal of the Philippine government to allow an independent UNHRC investigation on the killings and other rights violations, its distortion of facts and continuing human rights violations, it is necessary to revisit calls for the removal of the Philippines at the UN HRC," Karapatan said.
The group added that the country has shown "mockery" for continuing its membership in UNHRC while violating international human rights instruments and recommendations.
"We call on the international community to remain vigilant and continue its support for the Filipino people's campaigns and struggles against human rights violations in the Philippines and Duterte's tyrannical rule," Karapatan said.