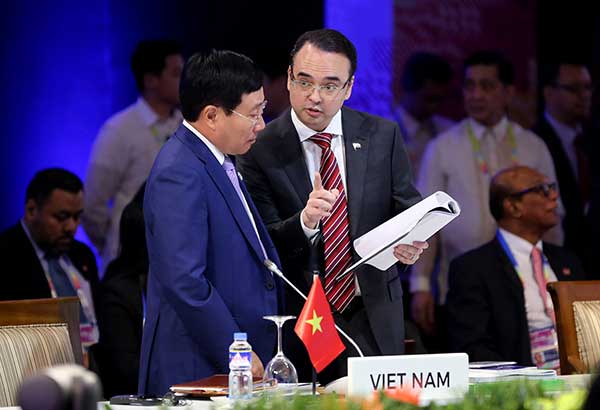 Foreign Affairs Secretary Alan Peter Cayetano assured Vietnamese Foreign Minister Pham Binh Minh that the Philippines will conduct a fair and thorough investigation into the deaths of two Vietnamese fishermen during a sea chase incident involving the Philippine Navy off the coast of Pangasinan on Saturday. STAR, file
Philippines to probe death of 2 Vietnamese fishermen in sea chase
MANILA, Philippines (UPDATED 9:27 p.m.) — The Philippines vowed to conduct a fair and thorough investigation into a sea chase incident which led to the death of two Vietnamese fishermen last Saturday.
Five other Vietnamese fishermen were taken into custody after they were spotted fishing within the Philippine exclusive economic zone 34 nautical miles off Cape Bolinao in Pangasinan.
Sparking a night chase, a Philippine navy ship prompted its crew to fire shots against the Vietnamese boat.
Foreign Affairs Secretary Alan Peter Cayetano assured Vietnamese Foreign Minister Pham Binh Minh that the five Vietnamese fishermen taken into custody will be accorded proper treatment.
"We would like to offer our sympathies over the unfortunate loss of life and give you our assurance that we will conduct a fair and thorough investigation into this matter," Cayetano told Minh during the ASEAN informal foreign ministers' meeting on the sidelines of the United Nations General Assembly in New York.
READ: 2 Vietnamese dead, 5 arrested in chase with Philippine Navy
Investigating teams from the Philippine Navy, Philippine Coast Guard and Philippine National Police have been deployed to Pangasinan to look into the incident, according to the secretary.
The Department of Foreign Affairs is in touch with the Vietnamese Embassy in Manila to provide updates on the developments and grant their access to their nationals, in accordance with the Vienna Convention on Consular Relations.
The Navy patrol boat was en route to Subic when it spotted six Vietnamese fishing boats using powerful lights to attract fish off the coast of Bolinao.
"In the ensuing chase, one of the Vietnamese boats initiated very dangerous maneuvers that resulted in it slamming into the left front and left center of the Philippine patrol vessel," the DFA said in a statement.
According to a report from the Associated Press, the incident was not related to the territorial dispute in the South China Sea.
Malacañang assured Vietnam of a fair and thorough probe on the sea chase.
"Authorities are now conducting a fair and thorough investigation into the incident involving a Philippine Navy vessel and Vietnamese fishing boats," presidential spokesman Ernesto Abella said in a press briefing Monday.
"The DFA is closely coordinating with the officials of the Vietnamese Embassy in Manila to update them on the developments and to facilitate their access to the five other Vietnamese fishermen taken into custody by the Philippine Navy," he added.
Navy personnel involved in the chase are prepared to shed light on the incident, military officials said. — Alexis Romero