Duterte to have son Paolo killed if involved in drugs
September 20, 2017 | 12:11pm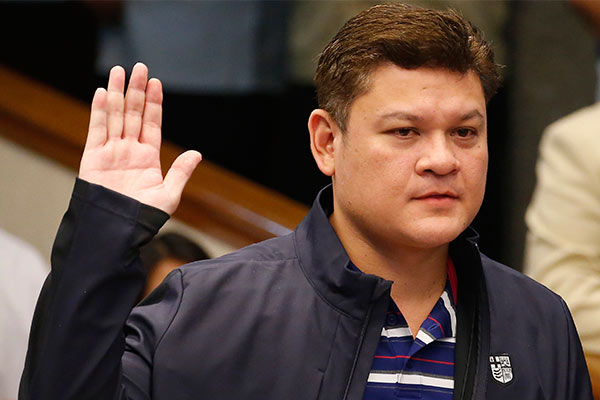 MANILA, Philippine — Even his son Davao City Vice Mayor Paolo Duterte would not be spared from the killings if he gets involved in illegal drugs, President Rodrigo Duterte said Wednesday.
The younger Duterte and his brother-in-law Manases Carpio have been implicated in the entry of P6.4 billion shabu or methamphetamine shipment from China. Carpio is the husband of Davao City Mayor and presidential daughter Sara Duterte.
The two were tied by broker Mark Taguba to a "Davao group," which he said, is involved in smuggling at the Customs. The younger Duterte and Carpio have denied the accusations. Taguba, later on, admitted that the allegations against them were just hearsay.
Duterte said he would not hesitate to order the killing of any of his children if they become involved in narcotics.
"Ang order ko nga noon na pag may anak ako na sa droga, patayin niyo para walang masabi ang tao (My order then is if any of my children are into drugs, kill them so that the public can't criticize us)," the president said during the awarding of outstanding government workers in Malacañang.
"Ang sabi ko kay (I told) Pulong my order is to kill you if you are caught and I will protect the police who will kill you," he added, referring to his son by his nickname.
Duterte made a similar threat before assuming the presidency.
In one of the debates for presidential candidates, Duterte said none of his children are drug addicts but if they get connected with narcotics, he would have them killed.
"None (of my children are into illegal drugs). But my order is, even if it is a member of my family, 'kill him'," Duterte, then the mayor of Davao City, said.
He has also promised to step down if any of his children are found guilty of corruption.
Duterte reiterated that he would enforce the country's laws regardless of who would be affected.
"I, as President, when I go after organized crime, and the law states everyone. No one should be favored," he said.
"I am a prosecutor When I prosecute, I prosecute all. Sauce for the gander, sauce for the goose."