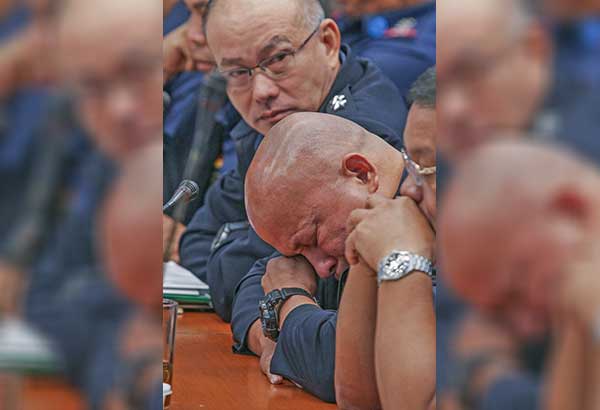 Philippine National Police chief Director General Ronald dela Rosa breaks down during the Senate hearing on drug killings yesterday.
Carl fired shot, killed while lying down – PNP
Paolo Romero
(The Philippine Star) - September 5, 2017 - 4:00pm
MANILA, Philippines — He fired a gun at policemen who fired back, hitting him five times as he lay on the ground, police said yesterday, referring to autopsy results on 19-year-old Carl Angelo Arnaiz.
The university student was killed allegedly while resisting arrest after robbing a taxi driver last month.
National Capital Regional Police Office chief Director Oscar Albayalde told senators Arnaiz tested positive for gunpowder residue in his hands, indicating he had fired a gun.
Albayalde bared the autopsy findings at the resumption of the inquiry of the Senate committee on public order and dangerous drugs into recent drug-related killings.
Relatives of Arnaiz, however, disputed the paraffin test results.
At his funeral yesterday, Arnaiz's grandmother Norma Magat said he never touched guns except perhaps toy guns.
Arnaiz's former classmates at the University of the Philippines in Diliman staged a protest rally against extrajudicial killings.
The Philippine National Police (PNP) Scene Of the Crime Operatives (SOCO) performed the test on Arnaiz shortly after he was gunned down in Caloocan City by police officers before dawn last Aug. 18.
Reportedly found in his possession was a .38 caliber revolver he reportedly used to rob a taxi driver and fight it out with law enforcers.
Arnaiz reportedly left his home on Aug. 17 purportedly to have a snack outside but did not return home.
His parents were able to locate his body at a morgue 10 days later.
Dr. Jocelyn Cruz, head of the Northern Police District (NPD) Crime Laboratory, testified that she conducted an autopsy on Arnaiz's body 10 days after it was embalmed in a morgue.
She said she found five gunshot wounds in the chest area, with the trajectory of the bullet going "upward" based on the exit wounds.
"It's possible the assailant was in a standing position and the victim was in a lower position compared to the assailant," Cruz said.
She said Arnaiz was likely in a "supine or kneeling position" when shot.
Cruz said she also found abrasions and contusions on the victim's right eye and on his back that may have been caused by "friction to a rough surface."
Slight contusions on the victim's wrists may have been due to "force in the area," she added.
When asked by Sen. Grace Poe, vice chair of the committee, if she thinks Arnaiz fought back, Cruz said: "With the victim being tall, there is a possibility he fought back" and that "based on the body of the victim, there were multiple gunshot wounds and there were other injuries noted. It means that the victim wasn't able to fight back easily."
The NPD's forensic findings appeared to match the findings of Dr. Erwin Erfe of the Public Attorney's Office (PAO) that Arnaiz could have been executed. Erfe surmised Arnaiz was kneeling when shot.
"It looks like the victim was handcuffed… there are marks of handcuff and the victim was mugged," Erfe told the committee, chaired by Sen. Panfilo Lacson.
Poe and other senators moved to summon the taxi driver, identified as Tomas Magleo Bagcal, who reportedly identified Arnaiz as the one who poked a gun at him and divested him of his wallet.
PAO chief Persida Acosta said Bagcal issued an affidavit on Aug. 18 and a supplemental affidavit on Aug. 29 in which he pointed to Arnaiz as the one who robbed him at gunpoint.
Acosta, however, noted some important details were not in his affidavits, like the plate number of his cab.
She also said when the PAO investigators verified Bagcal's address indicated in his statement, neighbors said he did not live there.
Poe and Sen. Joel Villanueva moved to invite Bagcal to the next hearing, as his narrative appeared to be doubtful.
Poe said there could be questions on his bona fides as Bagcal was referred to Caloocan City police investigators by PO1 Jeffrey Perez and PO1 Ricky Arquilita, who were believed to have shot the victim.
Poe also called on the PNP to exert all efforts to locate 14-year-old Reynaldo de Guzman who was last seen with Arnaiz.
De Guzman's mother, Linda Gabriel, believes her son is still alive but kept against his will. She said Arnaiz and De Guzman left together from their homes in Cainta, Rizal to have snacks with some neighbors last Aug. 17. That was the last time she saw her son.