Duterte: Shoot suspects who fight back, make them fight if they don't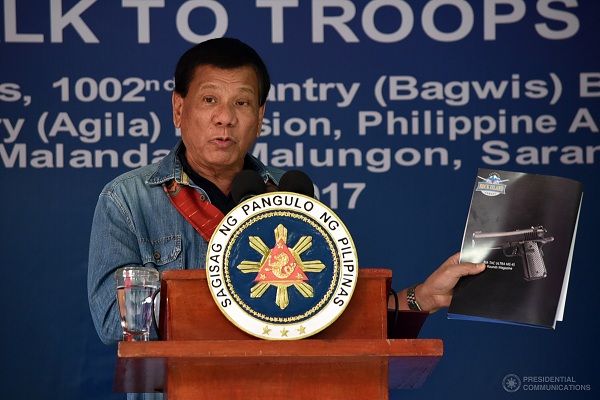 MANILA, Philippines — President Rodrigo Duterte on Wednesday, likely in jest, said that security forces should make criminals fight back to justify the possible use of violence as he reported that the illegal drugs trade has already returned to the national penitentiary.
Speaking at the anniversary celebration of the Bureau of Jail Management and Penology, Duterte said that he is the only president who had been able to order the killing of criminals especially drug traders.
It must be noted that the Palace has regularly denied that Duterte has actually issued such orders, dismissing similar comments as either jokes, hyperbole or just expressions of frustration.
READ: A year of consistent inconsistencies
Duterte however admitted Wednesday that no president could completely tackle the enormity of the drug problem the Philippines faces.
"Eh ako lang naman ang harap-harap na mag-utos patayin mo yang p***** inang 'yan. Sino pa bang iba? Kung hindi ko kayang ako na mismong p***** ina patayin mo yan. Pagkatapos lumaban. Pagkatapos lumaban," he said as his audience composed of BJMP personnel erupted in laughter.
He then said: "Dito is pagkalumaban. Ngayon, kung ayaw lumaban, di palabanin mo."
Duterte, who has admitted in past speeches that he planted evidence on suspects when he was a prosecutor, also said in apparent jest in December that police should give suspects guns so they can fight back.
The president is facing stringent criticisms both local and abroad for his bloody campaign against illegal drugs.
Duterte, who campaigned and won on a strong anti-drugs platform in last year's presidential election, has relentlessly pursued his drug war which had seen a mounting number of deaths especially among the country's urban poor.
Human rights watchdogs and international groups have said that there have been between 7,000 and 9,000 killings related to Duterte's drug campaign. The government has said the figures of deaths in the drug war are lower and that critics include "normal" homicides in their count.
Duterte also bared that despite his administration's strong campaign against illicit narcotics, their trade had already returned at the New Bilibid Prison in Muntinlupa City, blaming access to mobile phones for their resurgence. The Bureau of Corrections, an attached agency of the Department of Justice, has control of the NBP.
The NBP has been dubbed as a center of illegal drugs trade in the Philippines, with one senator, Leila De Lima, detained at Camp Crame allegedly for financially benefitting from it when she was still the justice chief of the previous administration.
Drug trade back in Bilibid
Last week, Justice Secretary Vitaliano Aguirre II said that there has been a resurgence of drug trading at the NBP, a year after the government launched an intensified crackdown against it.
Duterte said that trading of illegal drugs is made possible by the availability of mobile phones inside the NBP premises.
He said that the trade was mostly done by the Chinese.
"Diyan sa Bilibid, miski anong gawin natin, pasok pa rin ng pasok ang mga... and because ang droga, bumalik na naman. Allegedly around 400 kilos were the reason for the shootout where somebody died there sa Muntinlupa because of this," Duterte, brandishing a cellphone, said. "Ito lang kasi ang kapital, and I have to be frank, mostly Chinese. Pag nakapasok ang cellphone dyan negosyo talaga."
He also revealed that illegal drug trading had even reached Davao City although the three involved in this had already been killed.
"And would you believe it sa tracking namin, pati Davao Penal Colony, may tatlo doong putris ka. Nagne-negosyo. Sabagay, patay na," the chief executive said.