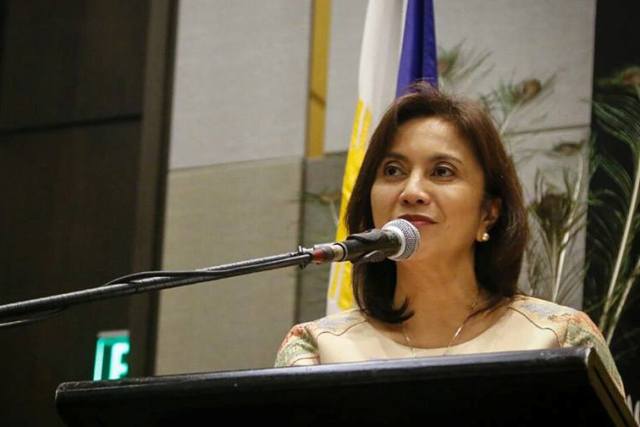 People should express outrage over the killing of dozens of drug suspects in Bulacan, Vice President Leni Robredo said yesterday. OVP/Released,File
Leni on drug deaths: People must express outrage
MANILA, Philippines - People should express outrage over the killing of dozens of drug suspects in Bulacan, Vice President Leni Robredo said yesterday.
"We are not like that. We have been disgraced by this culture of impunity a long time ago… it should not happen," Robredo said.
She made the statement when asked to comment on the killing of 32 drug suspects in Bulacan overnight from Monday to Tuesday.
"If there are killings like that, it only shows that there are people who take the law into their own hands. They are not working under the law by denying due process and justice for everyone," Robredo told a forum in Naga City.
"If there is someone who is at fault, he should be prosecuted, but he must be afforded due process," she said.
On Wednesday, Duterte said policemen should kill "another 32 every day, maybe we can reduce what ails this country," referring to the 32 drug suspects killed in separate drug stings in Bulacan.
Duterte also warned he would shoot down human rights advocates obstructing his campaign against illegal drugs.
The Commission on Human Rights (CHR) expressed alarm over Duterte's supposed threats to shoot human rights advocates.
CHR Chairman Chito Gascon said the recent remarks made by Duterte further worsened the already deteriorating human rights situation in the country.
"The statements of the President that called for increasing the body count in police operations in the course of the drug war coupled with the off-the-cuff calls to shoot human rights monitors further exacerbate the climate of impunity that has characterized this administration," he said.
CHR spokesperson Jacqueline de Guia said they are saddened by the threat against human rights advocates who are simply doing their job under a constitutional mandate.
"We hope that the government will recognize these and respect as well as protect human rights defenders in consonance with state policy enshrined in the Constitution," De Guia said.
Despite the threat, Gascon said they would perform their mandate and continue to monitor possible cases of human rights violations.
"We reiterate our call for law enforcement authorities to respect at all times both the human rights guarantees in our laws and their established operations procedures," Gascon said.
"Perpetrators must be held to account," he stressed.
Human Rights Watch said Duterte should immediately withdraw his statement or face investigation for inciting violence against rights advocates."President Duterte's threats against human rights activists is like painting a target on the backs of courageous people working to protect the rights and upholding the dignity of all Filipinos. Duterte should retract his reprehensible remarks immediately before there is more blood on his hands," said Phelim Kine, deputy Asia director at Human Rights Watch.Human Rights Watch branded as false government claims that the deaths of suspected drug users and dealers were lawful.
The group said an analysis of police records exposed a pattern of unlawful police conduct.
The investigations revealed that police routinely execute drug suspects and then cover up their crimes by planting drugs and guns at the scene.Efforts to seek accountability for drug-war deaths have gone nowhere, the group said.
The militant group Bagong Alyansang Makabayan (Bayan) said Duterte's iron-fist approach against illegal drugs is bound to fail.
"Unless he addresses the roots of the proliferation of illegal drugs, especially in depressed communities, he may just be accumulating statistics without actually solving anything," Bayan said.
"The killing spree must stop even as we also demand a stop to the proliferation of illegal drugs," it added.
The group also slammed Duterte's apparent praise of policemen killing drug suspects, even encouraging them to kill more.
"He worsens the problem of impunity by rewarding (the) police officer. He encourages more killings by his public approval of deadly police operations," Bayan said.
Duterte, a former prosecutor and mayor of Davao City where he built a reputation for tough anti-crime methods, won the presidential election last year on a promise to end criminality and corruption in the first three to six months of his presidency.
He encouraged police and even ordinary citizens to shoot suspected drug dealers if they resist arrest and promised cash rewards if they turn in drug lords.Death mentality
Retired prelate Oscar Cruz said Duterte's statements reflect the culture of death and growing "death mentality" in the country.
"Whether we like it or not, this mentality is creeping in, especially in the mind of the young people and that is worrisome," said Cruz, retired archbishop of Lingayen-Dagupan in Pangasinan and former president of the Catholic Bishops' Conference of the Philippines.
Cruz attributed this mindset to the emergence of the "death mentality" inured to daily reports of summary killings in the country.
"This is what we call infused value system since we can see it everyday. So it appears to be OK. Even among our youth, their perspective is that killing people is not a problem," he added.
For his part, Sen. Franklin Drilon questioned the Department of Justice (DOJ) and its attached agencies and offices for its lack of transparency on cases involving killings related to the war on drugs.
During the Senate committee on finance's hearing on the proposed 2018 budget of the DOJ yesterday, the issue of drug-related killings in general was raised by Drilon.
The Senate minority leader said the rising death toll from summary or arbitrary killings has placed the country under close scrutiny from the international community and the local legal community.
Asked about how many drug-related killings have been investigated, DOJ Undersecretary Reynante Orceo said they are not covered by its mandate.
Orceo was referring to the DOJ's Administrative Order 35 or the inter-agency committee on extralegal killings, enforced disappearances, torture and other grave violations of right to life, liberty and security of persons.
Apart from the inter-agency committee, the DOJ, through Department Order 120 issued last Feb. 20, also authorized the National Bureau of Investigation (NBI) to conduct probes into killings.
NBI Director Dante Gierran said what has been recorded by his agency so far was a total of 625 murder and 74 homicide cases covering the period of January to December 2016.
Asked by Drilon which of these cases were related to illegal drugs, Gierran could not provide the data.
Drilon said he felt the DOJ and the NBI were either not investigating the drug-related killings or were deliberately being "less than transparent."
"My impression is there appears to be something hidden, something being kept. This is an issue that cannot be denied. All I am asking is for data arising from your own issuances and nobody can give any data," he said.
"My conclusion is either no investigation is being conducted or data is being kept under lock and key," he added.
When asked about data on drug-related killings as a result of legitimate police operations since Duterte took office in June 30 last year, Orceo noted a total of 3,050 recorded as of May 30 this year. With Janvic Mateo, Marvin Sy, Ghio Ong, Evelyn Macairan, Rhodina Villanueva