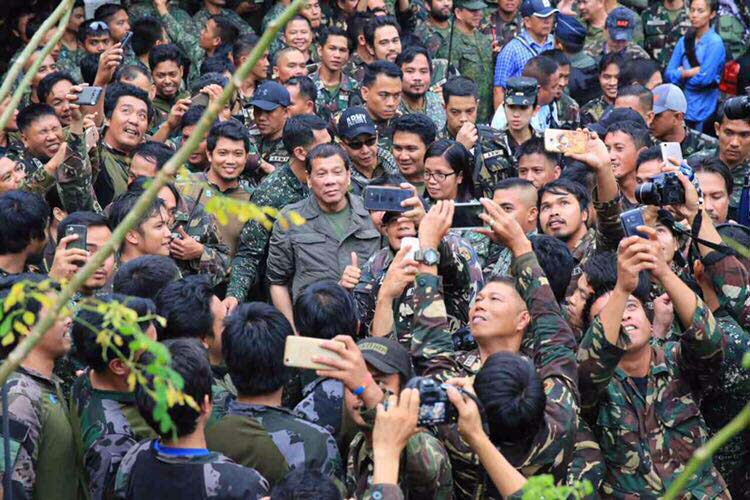 President Rodrigo Duterte poses with troops he visited in the batteground of Marawi City. Photo courtesy of Bong Go
Duterte visits troops in Marawi battleground
ZAMBOANGA CITY, Philippines — The military revealed President Rodrigo Duterte did not just visit Marawi City but went straight to the main battleground of the troops fighting the ISIS-aligned groups.
"Even the heavy rain could not stop the commander-in-chief in visiting his troops in the frontline yesterday (Friday)," said Capt. Jo-Ann Petinglay, spokesperson of the Western Mindanao Command (Wesmincom) and the Joint Task Force Marawi, in a statement.
Duterte's recent trip was his second visit to Marawi. His first visit to Marawi took place at Camp Ranaw on July 21.
The military did not disclose the exact location of the battleground where the president set foot for security reason.
According to Petinglay, Duterte's visit came days after the troops successfully reclaimed areas previously occupied by the Maute and Abu Sayyaf groups.
Duterte arrived about 4 p.m. Friday, together with Defense Secretary Delfin Lorenzana, National Security Adviser Hergenes Esperon and Presidential Military Adviser retired general Arthur Tabaquero.
The president was welcomed by Wesmincom chief Lt. Gen. Carlito Galvez Jr. and former Presidential Security Group commander now 1st Army Division chief Brig. Gen. Joselito Rolando Bautista, Special Operations Command chief Maj. Gen. Danilo Pamonag, and Joint Task Force Ranao Brig. Gen. Ramiro Rey and other ground commanders.
"President Duterte entered the main battle area and visited the soldiers and policemen fighting in Marawi City," Petinglay said.
The president distributed all-weather watches and goods for the soldiers.
Petinglay said the president reminded the soldiers to take cautions until terrorists are wiped out in Marawi.
"Practice caution until the end of the war. Malapit na itong matapos, konting tiis na lang. Just make sure na buhay kayo 'pag natapos itong giyera na ito," Petinglay quoted Duterte as saying. About 300 soldiers gathered around Duterte to listen to his short speech.
She said the president assured the soldiers that he supports the government forces in their fight against the terrorists.
The president also reiterated his promised to provide P50 billion worth of trust fund and scholarship for the dependents of soldiers and cops.
Petinglay said the president got drenched by rain while posting for selfie with the ground forces.
"When the president left, the troops were all smiles and visibly on high morale seeing our commander-in-chief," the military official added.