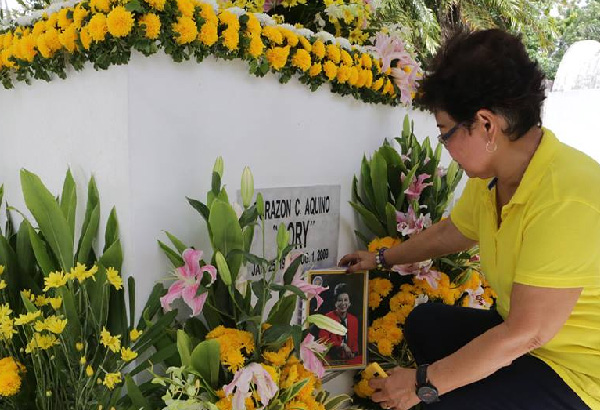 Aquino said that the rights Filipinos enjoy today were not given but won. The STAR/ERNIE PEÑAREDONDO
Noy: Defend democracy won by those who came before us
MANILA, Philippines — As his family held a mass for the 8th death anniversary of his mother, Corazon, former President Benigno Aquino III called on Filipinos on Tuesday to always guard the country's democracy, which it earned through a peaceful people power revolution in 1986.
Aquino's mother was installed president after the peaceful uprising that came three years after the assassination of his father and namesake, Benigno Jr. in 1983.
Aquino's parents fought the Marcos dictatorship, which was toppled through the revolution, and had been considered democracy icons.
"Maski anong bagay 'pag pinabayaan guguho eh, mawawala. Parang obligasyon natin na nagmana sa lahat ng sakrpisyo ng nauna sa atin na ipagtanggol 'yung mga karapatan na hindi naman ibinigay, ipinaglaban" (Anything will crumble if not taken care of. It's like the obligation of those who benefited from the sacrifices of the ones who came before us to defend the rights that were not handed down but fought for)," Aquino said.
The former president had avoided commenting on politics for at least a year since President Rodrigo Duterte came to power. He said he did not want to give unsolicited advice and that he understands that his succesor would need time to adjust to being president.
"'Pag 'di natin pinahalagahan itong mga karapatan na ito, baka gumising tayo isang araw wala na (If we do not value these rights, we might wake up one day we have lost them)," Aquino added.
Aquino said it was very "touching" and "heartwarming" to see the same faces since his father died still supporting their family. The former president noted the people were tense to be with them at the time.
"Now it seems the tension to be with us is back," the former president quipped.
The former president and his officials have been blamed for allegedly not doing enough to curb the illegal drug trade in the country, with Sen. Leila De Lima now in detention for allegedly receiving money from convicted drug lords while she was Justice secretary.
The Liberal Party, once the administration party, has also been plagued by defections since even before the 2016 elections.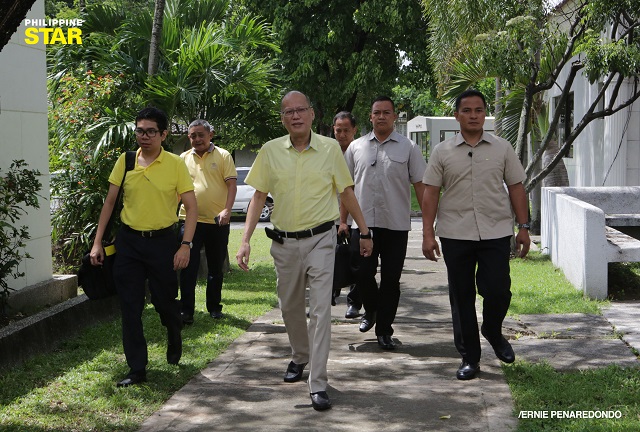 Former President Benigno Aquino III warned that taking rights for granted to could lead to losing them. The STAR/ERNIE PEÑAREDONDO
'In our hearts, you will always be there'
Ballsy Aquino-Cruz, the former president's elder sister, also thanked those still by their side even if her brother is no longer in power.
"You know in our hearts, you will always be there. Kasi sabi ko nga sa mga panahon na mabango ang aming pangalan namin, marami. 'Pag 'di masyado, andyan pa rin kayo," Cruz said, referring to people supporting them.
Aquino siblings Viel Aquino-Dee and actress and TV host Kris Aquino were also at the mass as was De La Salle University president Armin Luistro, former Department of Education secretary.
The former president said his mother would have joined the discourse on various issues affecting the country if she were alive and that he is hoping the freedoms she fought for would never wane.
"Of course, she would have plenty to be concerned about if she were still alive. The crisis in Marawi City, the extrajudicial killings, and now, typhoon season. There are many issues," he said, expressing hope that everyone would be more open to discussion rather than insist on one side of every issue facing the country..