Duterte: Joint gas exploration deal in disputed sea may be forged with China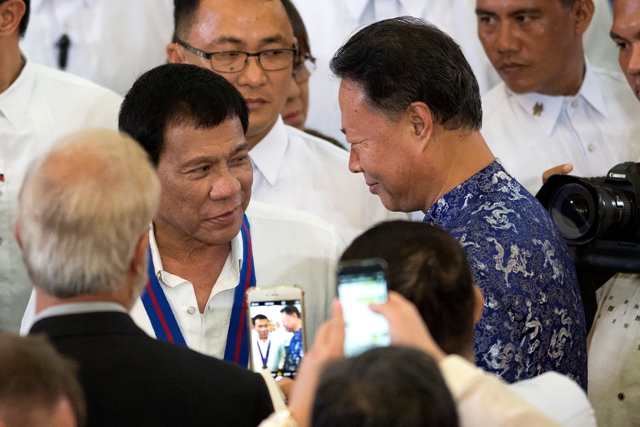 MANILA, Philippines — The Philippines and China may conduct a joint exploration in disputed areas in the West Philippine Sea (South China Sea), President Rodrigo Duterte said, as he stressed that Manila cannot wage a war against militarily superior Beijing.
During his second State of the Nation Address last Monday, Duterte said the West Philippine Sea issue is a matter that has to be tackled "sooner or later."
Asked to elaborate on his statement, Duterte said the two countries' joint exploration activities may be similar to a "joint venture."
"When they start to excavate the gas and all. I tell you, it's going to be just like a joint venture. Para pareho (So it will be fair)," the president said in a press conference after his SONA.
Duterte could not provide details about the joint exploration but revealed that talks are ongoing.
"Wala pa sila pero (They are not yet here but) we are into it already. We are there already, may partner na (There's a partner already)," the President said.
"'Di ko lang masabi kung sino. Nandoon na ang atin pati kanila (I just cannot reveal the partner. Our representatives and their representatives are there). They are talking and they are exploring," he added.
China claims virtually the entire South China Sea but this is being disputed by the Philippines, Vietnam, Malaysia, Brunei and Taiwan.
Last year, a Hague-based court ruled that China's expansive maritime claim has no legal basis but Beijing refused to recognize the ruling, dismissing as "illegal since day one." The ruling stemmed from a complaint filed by the Aquino administration in 2013.
Duterte has said he is ready to set aside the tribunal's decision to repair the Philippines' relationship with China. But he also promised to bring up the matter with the Chinese government within his term.
Last May, Duterte said he was open to a "fair and balanced" joint exploration of the South China Sea, a resource-rich area that is the subject of a longstanding dispute in the region. Duterte noted that former President Gloria Macapagal-Arroyo had forged an agreement with China and Vietnam for a joint study of potential oil and gas reserves in the area.
Supreme Court Senior Associate Justice Antonio Carpio has said that conducting a joint development within the country's exclusive economic zone is prohibited by the Constitution. The EEZ is an area 200 nautical miles from a baseline of a coastal state. The coastal state has sovereign rights to explore, exploit, conserve and manage the natural resources within its EEZ.
Duterte challenged Carpio to join him in confronting China but should be prepared in case they end up getting beaten up.
"This is Carpio. Okay, I will back him up. Pero 'pag binugbog tayong dalawa diyan… Bantay ka pag-uwi (But if they beat us up, watch out when we return home)," the president said.
Duterte reiterated that the Philippines would not be able to match China's military prowess in the event that a conflict erupts over the South China Sea row.
"I'm not prepared to go to war. I have to be frank. The truth is, I will not. It will end up a slaughter to my forces. Kulang tayo (We lack manpower). They have the state-of-the-art and everything," he said.
"They have missiles pointed at us. It will reach Metro Manila in seven minutes. Now why? Whose fault it is. Look, it was there three years ago. The overflights of intelligence from all countries published it."
Duterte said he asserted the Philippines' rights in the South China Sea during his meeting with China President Xi Jinping last May.
"I told them: 'We are the owners of South China (Sea). I will dig my oil there. Whether you want it or not'… I said: 'That's ours. I will build… Put a rig there to extract oil,'" the president said.
"Then he (Xi) answered… in the end para away tayo. Giyera 'to (It will lead to a war). Eh 'pagka ganon huwag na muna…wala tayo kabuga (If that's the case, let's not push it for now. We cannot match their might)."