Rambling 2-hour SONA: Duterte skips key issues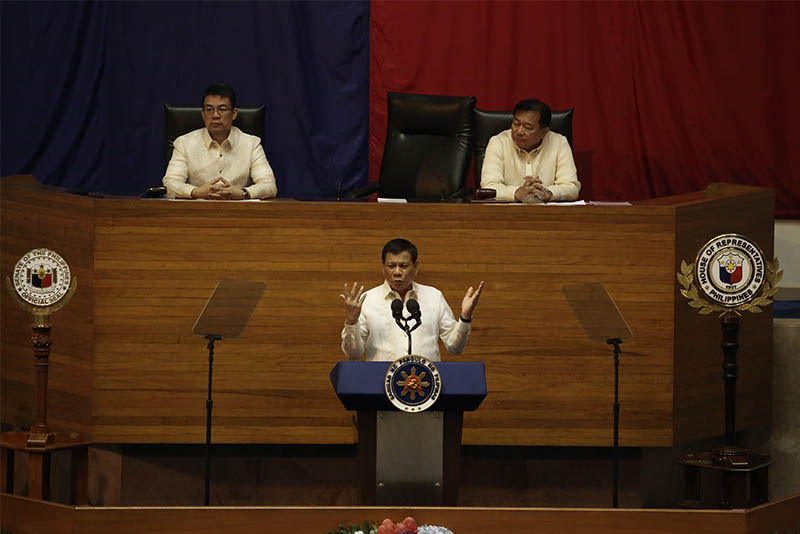 MANILA, Philippines (Updated 8:17 p.m.) — President Rodrigo Duterte took two hours to deliver his second State of the Nation Address on Monday, straying from the text prepared for him and missing out on key issues.
Addressing a joint session of Congress, diplomats, senior officials and other guests, Duterte complained of the script running on the teleprompter as "walang kwenta" or nonsensical.
"Hindi na ako kukuha d'yan (I will no longer read from it)," Duterte said, referring to the teleprompter.
REVIEW: Duterte's State of the Nation Address
He proceeded to deliver impromptu remarks chastening his critics, among whom are members of the media, his political foe Sen. Leila de Lima, human rights defenders, left-wing groups and the United States including former President Barack Obama, whom he mockingly aped.
While he assured the military of his support in its efforts to counter terrorism in Mindanao, he failed to mention concrete steps to address the humanitarian crisis in Marawi.
Thousands of Marawi residents have been displaced and have been staying at evacuation centers since fighting broke out in late May between the military and a terrorist coalition sympathetic to the Islamic State. The clash triggered a humanitarian crisis and led to the deaths of 100 security personnel and dozens of civilians.
Duterte also mentioned the South China Sea dispute once, saying it has to be tackled "sooner or later," but spent more time thanking China, the Philippines' maritime rival, for its plans to fund infrastructure projects.
Over his first year of presidency, Duterte refused to demand immediate Chinese compliance with a tribunal ruling favoring the Philippines in the sea row.
Duterte also made a scant mention of policies to deal with Metro Manila's hellish road congestion. The Philippine leader, who last year asked Congress to grant emergency powers to the executive branch to deal with the traffic problem, merely directed concerned agencies to "ensure the free flow of traffic, and immediately clear our roads and thoroughfares of all unnecessary obstruction." These efforts are being carried out in past years, but the president did not endorse possible solutions moving forward.
ALSO READ: A look at major issues Duterte is confronting in his 2nd year
Joblessness has increased over the past year, from 5.7 percent in January last year to 6.6 percent in the same period this year. Duterte did not specify policies to address unemployment and underemployment. — Camille Diola