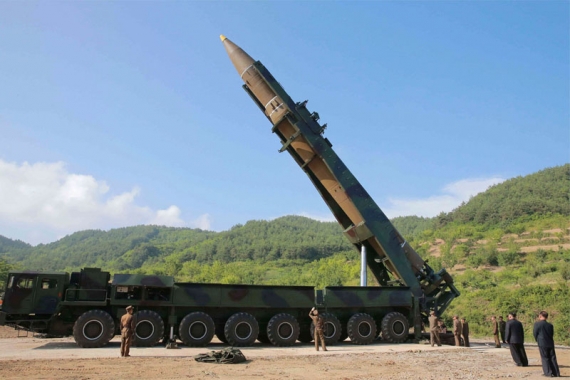 In this July 4, 2017, file photo distributed by the North Korean government, North Korean leader Kim Jong Un, second from right, inspects the preparation of the launch of a Hwasong-14 intercontinental ballistic missile (ICBM) in North Korea's northwest. For nearly 70 years, the three generations of the Kim family have run North Korea with an absolute rule that tolerates no dissent. The ruling family has devoted much of the country's scarce resources to its military but has constantly feared Washington is intent on destroying the authoritarian government. Korean Central News Agency/Korea News Service via AP, File
Philippines only country in Asia-Pacific region with positive view of North Korea
MANILA, Philippines — Despite being concerned about North Korea's nuclear program, a majority of Filipinos are found to have a positive view of the reclusive country, bucking the region's distrust of Pyongyang, a study said.
Across the Asia-Pacific Region, only Filipinos have a generally positive opinion of North Korea, with 53 percent of respondents holding a favorable view while 33 percent had a negative sentiment, according to the Spring 2017 Global Attitudes Survey by the Pew Research Center.
This goes against a general trend of regional distrust in North Korea, with at least 45 percent of the people in Indonesia, Vietnam, South Korea, the US, Australia and Japan seeing the country in a negative light.
Among the countries surveyed, the Japanese are the most negative on the North, with 94 percent of them holding an unfavorable view, including 78 percent who say that they have a very unfavorable attitude, according to Pew Research.
"In Australia, the US and South Korea, roughly three-quarters or more say they have unfavorable views," the center said.
The findings are part of Pew's Global Attitudes Survey partially based on face-to-face interviews in five local languages in the Philippines with 1,000 nationally represented respondents from February 26 to May 8, 2017. The survey has a margin of error of ±4.3 percentage points.
ALSO READ: Filipinos increasingly see China as top economic power
Worried about North Korea's nuclear program
North Korea put the region on a jittery edge recently after it launched an intercontinental ballistic missile that some experts believe could reach the American states of Alaska and Hawaii.
The Philippines is also within range of this missile, which the North is developing into a weapon capable of carrying a nuclear warhead, something which is concerning for most Filipinos.
According to Pew Research, Filipinos are among the most concerned about North Korea's nuclear program, with 60 percent saying they were "very concerned" while another 27 percent of the respondents indicating they were "somewhat concerned."
This is the third highest in the region, behind only Japan and the US.
It said: "In the Asia-Pacific region, anxiety is highest among Pyongyang's closest neighbors—Japan, the Philippines and South Korea, where around 60% or more say they are very concerned."
However, despite worrying about the possible impact of the isolated country's nuclear development, Asia-Pacific countries are divided on the proper response to the issue.
A plurality of Filipinos and Vietnamese say that this should be tackled by fostering a closer relationship with the North.
Developed nations, including the US, Japan and South Korea, hold a different view and say that economic sanctions are the better response to the nuclear issue.
"Half or more Americans, Japanese, South Koreans and Australians believe increasing sanctions will be more effective than deepening ties," it said. "A plurality of Vietnamese and Filipinos say the nuclear problem should be handled by deepening ties with North Korea, and in Indonesia, large shares volunteered that neither was a good strategy (18%) or said they did not know (23%)."
The US has recently indicated that a military option is on the table in dealing with the recalcitrant North although experts say this is unlikely and should be the last resort considering that much of South Korea's population is within striking distance of Pyongyang's missiles.
They say that tens of thousands of South Koreans could die within the first few hours of a North Korean artillery barrage.
Addressing the North Korean threat
Despite pursuing North Korea's denuclearization, South Korea is not working toward an "artificial unification" with its neighbor under the administration of newly elected leader Moon Jae In, a senior official from South Korea's foreign ministry said.
Similarly, South Korea "does not wish for North Korea's collapse," the official told journalists at a briefing organized by the Foreign Service Institute in Manila.
The official said that South Korea is taking an approach of "strategic patience" in pursuing the compete dismantlement of the North's nuclear program and establishment of a peace regime.
This image made from video of a news bulletin aired by North Korea's KRT on Tuesday, July 4, 2017, shows North Korea leader Kim Jung Un, center, applauding after the launch of a Hwasong-14 intercontinental ballistic missile (ICBM) in North Korea's northwest. KRT via AP Video, File
The two Koreas, divided after World War II, however, ended negotiations a decade ago, both the official said efforts to revive bilateral channels are underway.
South Korea has also abandoned trade with North Korea in 2016, while the latter has become almost completely dependent on China for trade.
The official said it is the priority of South Korea and its ally, the United States, to convince China to put pressure on North Korea to abandon its nuclear arsenal. "China is the sole power that can put pressure, to bring North Korea to the negotiating table," he added.
The official said the Philippines, along with the Association of Southeast Asian Nations, is in the position to send a unified message to North Korea and persuade China to commit on the region's security.
"The Philippines has diplomatic space to do that," the official said. — with reports from Camille Diola