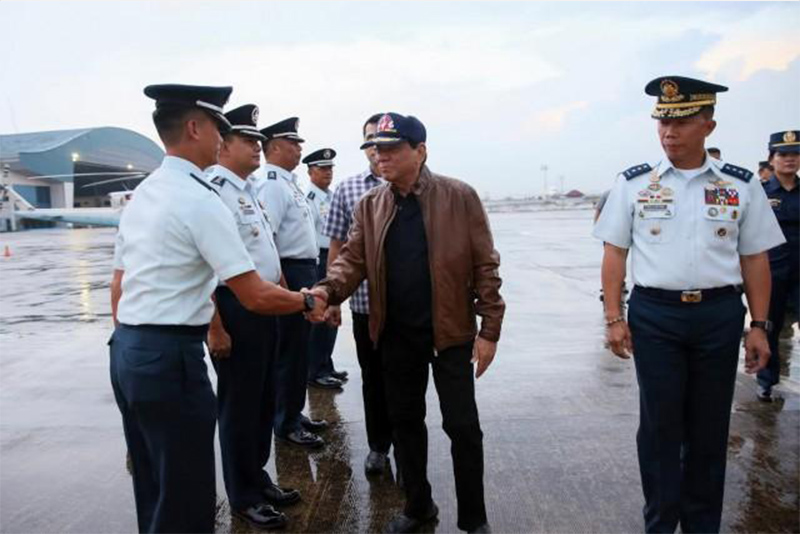 It's private time again for President Rodrigo Duterte. After breaking his "private time" last Saturday with a brief engagement with soldiers in Cabadbaran, Agusan del Norte and Butuan City, President Duterte appears to be getting scarce again. File
Extended private time for Duterte
DAVAO CITY, Philippines – It's private time again for President Duterte.
After breaking his "private time" last Saturday with a brief engagement with soldiers in Cabadbaran, Agusan del Norte and Butuan City, President Duterte appears to be getting scarce again.
Sources said Malacañang has set no official appointment for the President for today. He was not seen in public yesterday.
Last Sunday – Father's Day – was understandably private time for the President, spent mostly with his grandchildren.
The President also opted to stay in Davao City and did not fly to Manila as he usually does to start his workweek at Malacañang.
"People should get used to it when I am not seen in public. I am just around doing something," the President earlier said, adding he can still work even from here.
Duterte kept himself from the public eye for four days beginning June 12 when he opted to skip the Independence Day ceremonies in Rizal Park.
Last Thursday, Malacañang distributed photos showing him at the Bahay Pagbabago and at Villamor Air Base before he took off for Davao City for the weekend.
"I was in 'kama' (bed), not in coma," Duterte said, dispelling rumors that he had fallen ill and was in a coma when he was not seen in public last week.
Duterte said he had to rest and catch up with sleep following a hectic schedule in the past few months.
The President said there was nothing wrong with him deciding to take some private time for most of last week.
"If I were in coma, then I would not be here now para mag p*** (to curse)," he told reporters at the Army's 401st Infantry Brigade headquarters in Barangay Bancasi, Butuan City last Saturday.
Politicians, especially his critics, have been demanding that the President make public his health status and that he should also provide a daily bulletin on his condition.
Duterte was last seen in public at dawn of June 12 as he received the remains of the Marines killed in Marawi City.
The President has said he had his last health examination last year.
He assured the nation there would be no problem if he got incapacitated or worse, as the Constitution provides a clear order of succession.