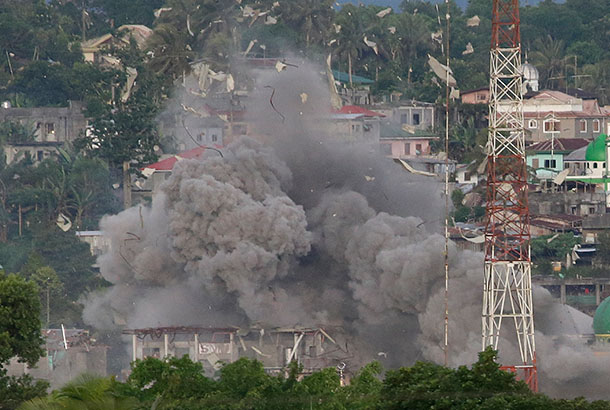 In this Friday, June 9, 2017, file photo, a cloud of debris rises as Philippine Air Force fighter jets bomb suspected locations of Muslim militants as fighting continues in Marawi city, southern Philippines. It's unclear how many people remain trapped in Marawi as government troops battle Muslim militants led by the so-called "Maute" group but army officers have put the figure this week at anywhere from 150 to 1,000. AP Photo/Aaron Favila, File
'The timetable is still on': Gov't says Marawi crisis won't delay BBL
ZAMBOANGA CITY — The attack in Marawi will not affect and delay the peace process between the government and the Moro Islamic Liberation Front and the subsequent passage of the enhanced Bangsamoro Basic Law, Presidential Adviser on the Peace Process Secretary Jesus Dureza said here Monday.
Dureza, who led the city in the commemoration of the 119th Independence Day here, told newsmen in a conference that the Bangsamoro Transition Committee is expected to submit to President Rodrigo Duterte and to the Congress the draft BBL when it convenes next month.
The BTC has already finalized the crafting of the enhanced BBL last week in Davao City and it is now up for submission to the Office of the President.
"The timetable is still on," Dureza said.
The previous Congress failed to pass the BBL largely because of the Mamasapano incident.
Dureza said they are also drawing good lessons from what happened in Marawi City.
The government and the MILF even came up with a peace corridor to rescue civilians trapped in the fighting between the Islamic State-inspired Maute Group and government forces.
"I think that's the positive part of it because if we ignore the reality as [to] how [the] Marawi incident came about then we will be repeating history again. So we should learn from that experience," Duterte said citing the participation of all stakeholders to come together in attaining the peace agenda.
Dureza raised Duterte's directive of coming up first with the convergence of all the stakeholders of the peace process.
"The peace bus is ready for everyone to board, but if there are those who won't board it we cannot just stall the bus, we'll have to go forward and leave in the wayside those who don't want to come with us," he said.
The Palace peace adviser also reminded the public that the peace process is a work of a lifetime and done one step at a time.
"I always say that the road to peace is not a paved road, it's not an easy road. In fact, there's a lot of humps and bumps along the way. But if we stay the course together then we probably come up together with that peaceful relation. In the meantime we have to travel it all together and also experience the humps and bumps along the way," Dureza said.