Maute matriarch captured in Lanao del Sur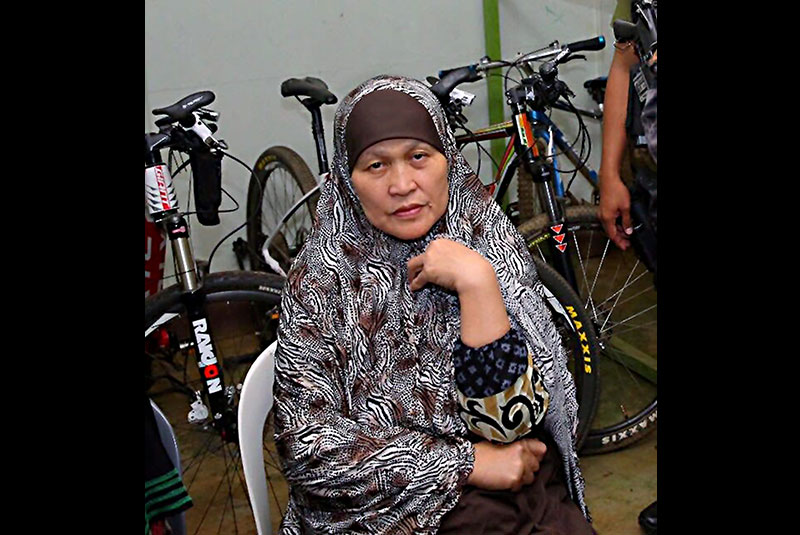 MANILA, Philippines - The matriarch of the Maute group was arrested in Masiu town, about 34 kilometers from Marawi City in Lanao del Sur, as she was trying to escape along with two wounded men and seven women Friday afternoon.
Ominta Romato, also known as Farhana, is the first wife of Cayamora Maute and mother of brothers Omar and Abdullah who led more than 200 people in seizing Marawi City on May 23.
She is believed to be the heart of the Islamic State (IS)-inspired Maute group, having directed its movement and operations and taking care of finances and international networking.
Farhana and Cayamora, who was arrested earlier by government forces, are said to be the masterminds behind the Maute operations.
Civilians reported Romato's presence in Barangays Unda Dayawan and Tamboro Cormatan, both in Masiu town, after she was seen buying vehicles and firearms days before the attempted getaway. Her reported safehouse is in Dayawan but she was arrested in Tamboro Cormatan.
An M-14 rifle, four rifle grenades, two improvised explosive devices and an undetermined amount of cash bundled with Landbank money bands were recovered from the vehicle that she and her group used to try to escape.
Malacañang welcomed the arrest, calling it an "important development."
"We believe that this is an important development, especially in the matters regarding the Maute terrorist group," said presidential spokesman Ernesto Abella over government station Radyo Pilipinas.
The attack by the Maute group in Marawi led to the displacement of thousands of families and the death of dozens of civilians, government forces and terrorists. Government promised to put an end to the destruction tomorrow, when the country observes its Independence Day.
Earlier, Romato reportedly tried to call President Duterte to talk about peace and negotiate a ceasefire following the heavy bombardment and fighting in Marawi City.
But the President thumbed down her overture, saying the government has lost too many soldiers and policemen in the Marawi attack.
In a pep talk with members of the 1st Mechanized Infantry Brigade based in Tacurong City, Sultan Kudarat on Thursday, the President said some suggested that he talk with Romato.
"I said 'No, I will not.' Do not fool me with those talks. Not anymore," Duterte told soldiers as he pointed out the number of soldiers and policemen that were killed in three weeks of clashes.
The Criminal Investigation and Detection Group (CIDG) said a raid in Romato's residence in Marawi sometime in December last year also yielded explosives.
Romato is said to be a fiercely astute businesswoman and politician. She reportedly manages several business interests, including renting out several buildings in Quezon City and other key cities in the country.
She is also said to have administered the Maute-owned houses in Iligan, Cotabato and Davao cities.
Brig. Gen. Gilbert Gapay, Armed Forces Eastern Mindanao Command (Eastmincom) deputy commander, said that Romato "has so many houses" that if Cayamora is considered a "big fish" in the Maute group, Romato is an even bigger fish.
"Romato is the mastermind of the Maute group, the couple have all the money. It is important that she should also be arrested," Gapay said, pointing out that the woman is included in the most wanted gallery circulated throughout the country.
As a politician, Romato was said to have once served as assemblywoman of the Autonomous Region in Muslim Mindanao (ARMM).
Intelligence information indicated that Romato and Cayamora went out of Marawi City in a convoy sometime last week. Romato then proceeded to Iligan City while Cayamora went to Cotabato City passing by the Lanao provinces before proceeding to Davao City where he was arrested.
"The search for Romato has really been intensified because of the role she plays in the overall operation of the Maute group," Gapay told The STAR. – With Alexis Romero, Cecille Suerte Felipe, Gerry Lee Gorit, Lino dela Cruz