Poe questions size, expenses of delegations for foreign trips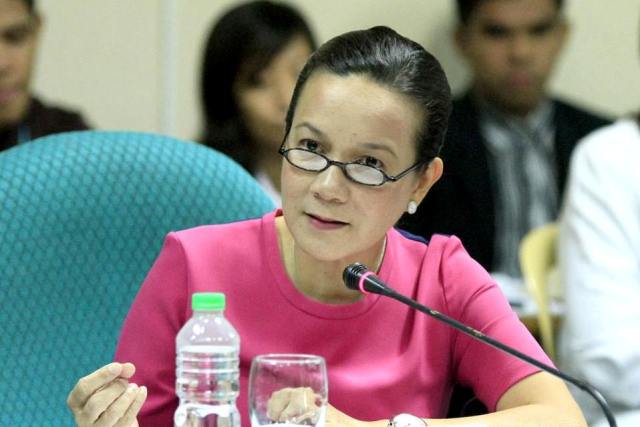 MANILA, Philippines — Sen. Grace Poe on Monday said having most top government officials abroad when the Marawi crisis happened does not "send a good signal" to the country.
"I don't think it's a good signal also to our countrymen that they're all there. When this thing happened, I think [Budget Secretary Benjamin] Diokno was left here. I respect Secretary Diokno, and he's highly capable, but his expertise is different. All of them were there, the chief of police was there," Poe said in an interview on ANC's "Headstart" on Monday morning.
President Rodrigo Duterte was in Russia to meet with Russian President Vladimir Putin and Prime Minister Dmitry Medvedev for possible trade opportunities when clashes in Mindanao began on May 23.
Duterte had to cut the trip short and returned to the Philippines on Wednesday after he declared martial law in Mindanao in response to the clashes.
Aside from Philippine National Police Director General Ronald dela Rosa, Executive Secretary Salvador Medialdea and 16 members of the Cabinet were included in the trip to Russia.
"Defense secretary (Delfin Lorenzana) was there, almost everybody was there. In fact, in social media, I think that government officials should be a little bit careful. The chief of police had photos being shown, when he was travelling at that time. But I think that it doesn't give a good signal to our countrymen, when now, change is supposed to have come," Poe said.
In a press briefing last Friday, former President Fidel Ramos said that the government officials who had no role in the trip but joined President Rodrigo Duterte in Russia should just have "stayed behind to take care of the situation."
Ramos said that "people should have been at their posts because this is not the first time that there have been threats."
Travel expenses
Poe said that aside from not having the national police chief and other security officials in the Philippines when the crisis happened, Cabinet members and lawmakers in the delegation should have paid for their own expenses in Russia.
This, after photos uploaded in social showed some of them travelling with their families and spouses.
She added that it is understandable that government officials would want to spend quality time with their families even while on an official visit, but it should be made clear who paid for their expenses.
"Alam mo pinapangalagaan natin sa Senado ay kung papaano din ginagastos ang pera ng ating mga kababayan, kapag nakikita natin ang mga litrato na pinopost sa social media, nakikita natin na kasama ang kanilang pamilya o ang kanilang maybahay, nagiikot-ikot sila," she said.
"Now, they can always say that 'we paid for it ourselves,' that's fine. But I think that also the message that comes out, that government has to be very conservative when it comes to expenses," Poe said.
President Duterte, who has shown pictures of his bedroom in Davao City, where he sleeps under a mosquito net, has advocated simplicity. He has also been photographed taking an economy flight.