Marawi crisis: Death toll reaches 44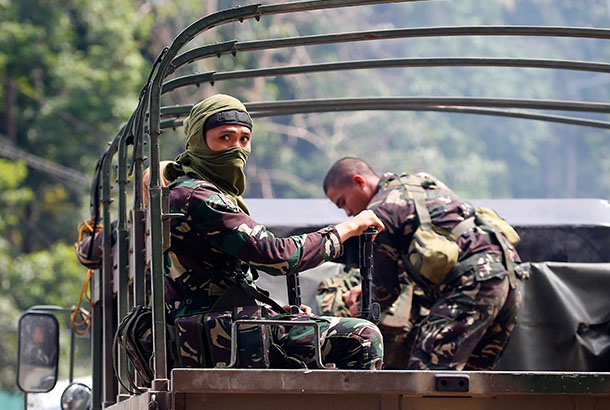 ZAMBOANGA CITY — The number of fatalities rose to 44 on the fourth day of the military offensives aimed at flushing out the Islamic State-inspired Maute militants from Marawi City, security officials said.
Among those killed were 31 Maute terrorists, 11 soldiers and two police officers.
Capt. Jo-Ann Petinglay, spokesperson of the Western Mindanao Command, also corrected reports that only 11 soldiers and 2 police officers were killed so far since Tuesday's atrocities.
Brig. Gen. Rolando Joselito Bautista, commander of Joint Task Force ZamPeLan, in his report to Westmincom said that 18 Maute terrorists were killed in the assault as of Thursday.
Bautista said the encounter happened when troops doing clearing operations on two bridges heading towards Bangulo area about 9 a.m. Thursday clashed with 30 Maute militants. The firefight lasted for two hours.
Five high-powered firearms were also recovered from the encounter site.
"As of this report, 31 terrorists were already neutralized and six high-powered firearms were recovered by the troops," Bautista said.
Meanwhile, Westmincom chief Lt. Gen. Carlito Galvez Jr. reported that six soldiers were also killed while seven others were wounded during the operations.
"The skirmishes and clearing operations today resulted [in] the unfortunate death of six soldiers and wounding of seven others," Galvez said.
"They made the ultimate sacrifice to ensure that the city will be cleared from terror threat and immediately restored normalcy in this part of Mindanao," he said.
Since Wednesday, the government said a total of 31 militants were dead after troops also killed 13 Maute fighters.
"Our troops are doing deliberate operations in areas we believe are still occupied or infested with the terrorist's presence. I specifically ordered our soldiers to locate and destroy these terrorists as soon as possible," Bautista said.
Civilians rescued
Soldiers were able to rescue 16 civilians during a clearing operation in Barangay Kilala.
The operation provided safe passage to civilians who were trapped in the areas they were hiding at during the height of the Maute siege.
"We will exhaust all efforts to crush the remaining Maute members so that the people of Marawi City can go back to their homes the soonest," Galvez said.
"Any information will contribute to the neutralization of these agents of deaths and destruction," he added.