Philippines ends P13.8-B funding from European Union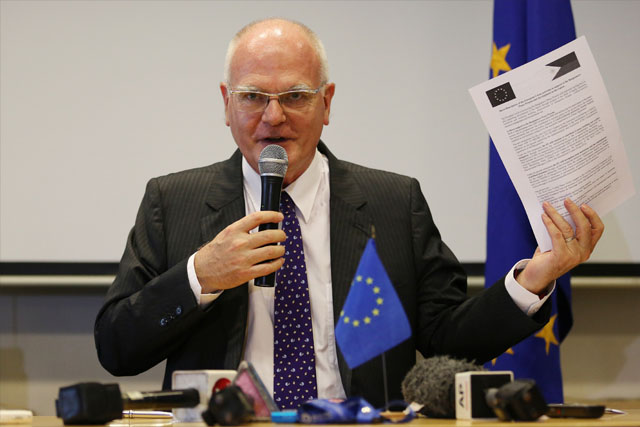 Decision made to thwart interference, says Palace
MANILA, Philippines (Update 3, 1:38 p.m.) — The Philippine government has decided to end its funding agreement with the European Union (EU), the EU delegation to the Philippines confirmed Thursday.
EU Ambassador to the Philippines Franz Jessen said in previous reports that the government has informed them that the country will no longer accept new EU grants.
The EU delegation to the Philippines is yet to release an official statement announcing the end of the agreement.
Executive Secretary Salvador Medialdea said that Philippines rejected aid from the EU so as to "prevent them from interfering with the our internal affairs."
This move comes days after China promised to pour in billions of dollars for projects under its One Belt, One Road initiative which could purportedly help the Philippines.
Trade Secretary Ramon Lopez said that the country is already benefiting from Beijing's aid and assistance worth $24 billion.
President Rodrigo Duterte earlier had challenged the EU to stop its assistance after the bloc warned that the Philippines risks losing tariff-free exports to Europe because of the thousands killed in the war on drugs launched by Duterte and Manila's moves to revive the death penalty.
"The President has approved the recommendation of the Department of Finance not to accept grants from the EU that may allow it to interfere with internal policies of the Philippines," presidential spokesman Ernesto Abella said Thursday.
RELATED: China pledges $124 B for new Silk Road
Cutting aid from the EU, however, would mean the loss of about €250 million or $278.73 million worth of grants, according to Jessen.
"The amount possibly concerned by the new decision is 250 million euro plus. For this year the amount affected could be 100 million euro," the ambassador said.
Development projects currently using EU assistance include a 35 million euro ($39 million) grant to support the peace process with rebels in Mindanao.
The EU has been a strong critic of Duterte's anti-drug campaign.
In a joint resolution adopted in March, the European Parliament called for an investigation into "unlawful killings and other violations" in the Philippines linked to the so-called war on drugs.
Latest data from the Philippines Statistics Authority showed that the EU is the biggest and fastest growing export market for Philippine goods with $901 million of total exports.
The growth was triggered by factors supported by the economic bloc's Generalized System of Preferences Plus (GSP+) trade benefits, which fully removes tariffs on two-thirds of all product categories.
— with reports from the Associated Press; Video report by Efigenio Toledo IV