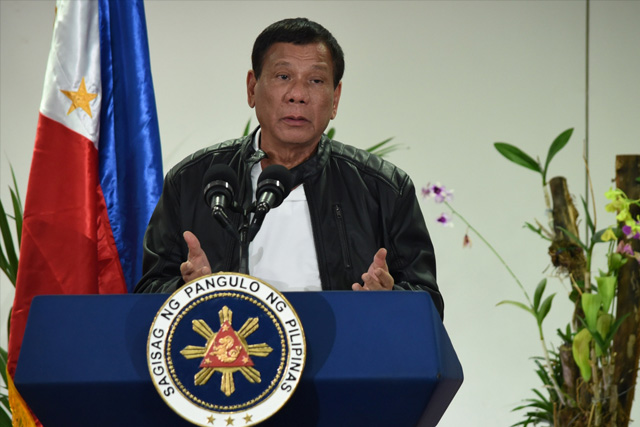 "For as long as they are killing government security forces I will not sign anything. There is nothing I can do about it. I have to protect my soldiers. I am the commander-in-chief," Duterte said upon arrival at the Davao International Airport early yesterday morning. PPD/Released, File
'No peace if NPA keeps attacking government forces'
(The Philippine Star) - May 16, 2017 - 4:00pm
DAVAO CITY, Philippines – There will be no peace deal with the Communist Party of the Philippines-National Democratic Front (CPP-NDF) if its armed wing, the New People's Army (NPA), continues to kill government troops, President Duterte has said.
"For as long as they are killing government security forces I will not sign anything. There is nothing I can do about it. I have to protect my soldiers. I am the commander-in-chief," Duterte said upon arrival at the Davao International Airport early yesterday morning.
The government and the CPP-NDF peace panels have yet to resume talks.
"Ayusin mo. Matagal na eh (Fix it. It's taking too long)," the President told chief peace negotiator and Labor Secretary Silvestre Bello III.
Duterte said his offer to CPP founder Jose Maria Sison remains and he guarantees the communist leader's safety should he decide to come home.
"So my offer to Sison stands. He can come here in peace. I will guarantee safety and I will even underwrite his hospitalization. I will not arrest him," the President said.
Duterte said Sison is sick and that instead of arresting him, he would arrange for his medical treatment.
It's not right to pick a fight with people who are sick and helpless like Sison, he added.
Martial law in parts?
President Duterte needs time to ponder whether to declare martial law in certain parts of, if not the entire, Mindanao due to security problems brought by the Abu Sayyaf bandits and other rebel groups.
"Declaring martial law is something that has to be pondered on deeply," Duterte said, as he stressed that the extraordinary powers of the state should not be treated casually.
A group that calls itself the Save Sulu Movement has asked the President to place six Sulu towns under martial law, citing the alleged ties between some politicians and the Abu Sayyaf.
The group said martial law should be declared in the municipalities of Patikul, Indanan, Parang, Maimbung, Talipao and Kalingalan Caluang, which it described as "craters of terrorism."
"I need time to ponder on it deeply and it is not only a political decision, it is an emotional decision," Duterte said.
"You do not tinker with the extraordinary powers of the state," he added.
Duterte recalled that he had issued a warning against the terrorists, who were bombing schools two months ago.
"I warned them not to force me to declare martial law because if I do, I will solve not only the rebellion, but everything that ails Mindanao including problems on land boundaries," the President said.
"I would not just tinker with it as if it's a plaything. It's a very serious matter. But if I declare martial law, there is no way of telling how long would it take us to restore order or we might not really be able to succeed," he added.
Last Saturday, Duterte floated the idea of declaring martial law as he chided the courts for supposedly delaying state projects through temporary restraining orders.
"Gusto niyo ng...kung ayaw mo ng ganun, martial law, maganda nga mag-martial law (You want...if you don't want that, martial law. It's good to have martial law)," he said during a meeting with the Filipino community in Hong Kong.
He later clarified that he would not make such declaration because he is not that happy to be president.
Meanwhile, the President said he is not hurrying the Moro National Liberation Front (MNLF) and the Moro Islamic Liberation Front (MILF) in coming up with an enabling law on the Bangsamoro, which the Bangsamoro Transition Commission is set to craft.
"I have been waiting for them, I'm ready. Nur Misuari is taking his time. I am not hurrying him up. The MI probably would be ready for talks," he said, referring to the MILF.