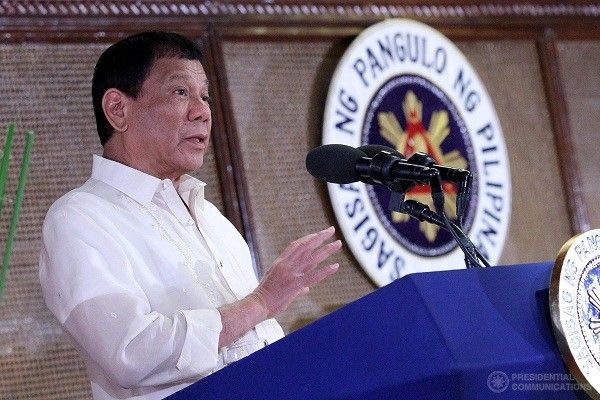 President Rodrigo Duterte severely criticized two media organizations during the oath-taking ceremony of the newly-appointed government officials and the new officers of the Philippine Councilors' League (PCL) at the Heroes Hall in Malacañan Palace on March 30, 2017.
PCOO/Richard Madelo
Palace: Duterte not against Philippine media
MANILA, Philippines — Malacañang defended on Friday President Rodrigo Duterte's diatribe against the media the previous day, clarifying that the president was not attacking Philippine media.
Ernesto Abella, the presidential spokesman, defended Duterte a day after the president slammed two media entities for their alleged distortion of his statements.
"The president's remarks on ABS-CBN Corporation and Philippine Daily Inquirer is a complaint against unfairness and are not attacks against Philippine journalism," he said in a statement.
In a press briefing at the Palace, Abella said that Duterte was angered by what he perceived as an unfair framing of his statements that showed bias "leaning towards" malice. He pointed out as an example the reporting on the government's war on drugs that made it appear as a war versus the poor.
Abella said: "For example, the way the war on drugs was framed as a war versus the poor. It seems to imply that he is actually focusing on a particular class which is hardly the point. But the way that particular media framed it insinuates a particular bias which leans towards malice."
The spokesperson also said that the president had more serious matters to attend to than filing charges against media organizations that he perceived to be unfairly covering his presidency.
"I don't think he will be filing a complaint, but I think what he complains about is a question of fairness in the sense that for example some matters are framed in a particular way that caricatures certain situations," he said.
On Thursday, the president gave a blistering criticism of the newspaper Philippine Daily Inquirer and TV station ABS-CBN for their perceived unfair and twisted coverage of his pronouncements especially those relating to Duterte's campaign against illegal drugs.
"Tingnan mo yung Inquirer. Ang sinasabi ko sila ang may sabi na pinapatay ko raw ang mahihirap. Alam mo ang Inquirer kahapon, talagang ... Basura talaga yan pati yung eleksyon. 'The poor will be killed.' Tingnan mo kung mag-slant," the president said in a speech.
He was also angered by their coverage of the alleged P200 million hidden wealth in his bank accounts during last year's presidential campaign, saying that he would immediately step down if somebody would prove it.
Although the president recognized the adversarial nature of news entities, Abella said that the two media outfits' caricature of Duterte as a "berserk strongman over a failed state" was "unfortunate."
"The president's statement is a call for media to be more fair and unbiased; after all, nations succeed when all sectors maintain objectivity and fairness as they collaborate in nation building," he said.
Gina's appointment not affected
Abella also clarified that although her family owns ABS-CBN, Gina Lopez's reappointment as environment secretary would not be affected by the president's criticism of the broadcast station.
Abella said Duterte knew how to separate issues and to be objective in addressing them.
"I think those are two separate matters. As far as we can see, he can be quite objective about these things. He is able to compartmentalize certain matters," he said.
Abella, however, refused to say if Lopez's reappointment should be expected, saying: "If the president sees fit, then he will."