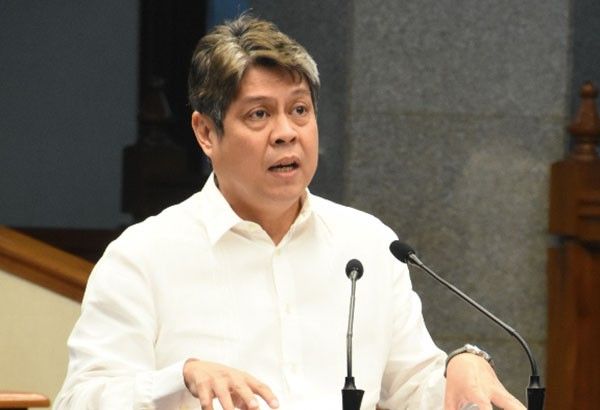 Sen. Francis Pangilinan said in a statement that dissenting from some of the government's initiatives does not mean that they are out to destabilize and oust President Rodrigo Duterte.
Philstar.com/File
Kiko: We are in a democracy not a dictatorship
MANILA, Philippines — Sen. Francis "Kiko" Pangilinan said Friday that dissent does not mean destabilization as he sought to rebut the president's pronouncement the previous night that allies and members of the Liberal Party (LP) were behind the moves to remove him from office.
Pangilinan said in a statement that criticizing some of President Rodrigo Duterte's policies was meant to ensure checks and balance. He added that it's part of their constitutional duty.
"Dissent does not mean destabilization. We are in a democracy, not a dictatorship," said Pangilinan, president of the LP, the erstwhile ruling party during the Aquino administration.
Pangilinan's statement came on the heels of Duterte's latest tirade against some of his harshest critics amid reported moves to destabilize his government and oust him from office.
"Pranka tayo. They want me ousted, who's behind it? Itong si Trillanes and his ilk. Sinong isa? Si De Lima. Gusto na niya akong paalisin wala naman akong ginawang exhibition. Pangatlo si Leni. Ay natural bakit pa siya maghintay kung nandyan yang opportunity," the chief executive told his audience at the 16th National Convention of the Integrated Bar of the Philippines (IBP) Thursday night.
Despite this, the president was still not keen on removing Robredo through impeachment, saying that he understands that the vice president needs to take a stand, usually critical, on issues.
The president added that an impeachment is too early considering that the Philippines just had national elections last year.
"Guys, ladies and gentlemen, we just had an election. It's too early to be ousting people. Hayaan mo siya [Leni]. She also has to take a stand. I understand that. It's always the kontrapelo. It's natural in politics. Pero yang to be ousting, too early, kakatapos lang ng election," he said.
Pangilinan also explained that in cases of governmental abuse the legislative branch should serve to check the executive branch.
He used as examples the cases of the P50 million Jack Lam bribery scandal, the Espinosa murder, and the killing and kidnapping of South Korean businessman Jee Ick Joo to demonstrate his point.
"In fact, should there be governmental excesses or abuses in the executive department, i.e., DOJ BID Jack Lam P50 million corruption scandal, Espinosa rubout case, PNP (Philippine National Police) Tokhang for Ransom Jee Ick Joo murder case, OSEC American citizenship issue, 5,000 unresolved vigilante killings, it is our constitutional duty in the legislative branch to act as a check and balance on the executive branch," Pangilinan said.