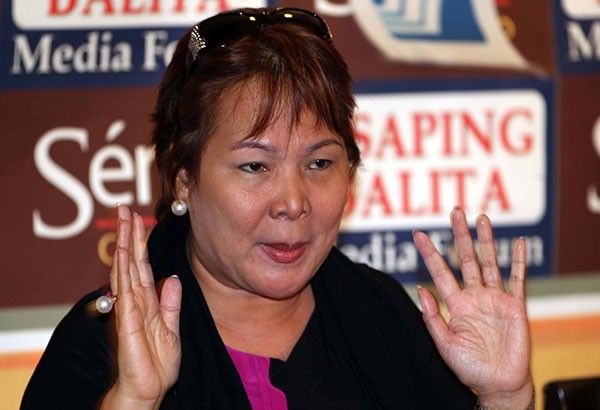 Jueteng whistleblower Sandra Cam defended herself on Monday following public criticism of her alleged "rude" behavior at Ninoy Aquino International Airport (NAIA).
File Photo
'Simple' Sandra Cam: Supposed airport tantrum a big lie
MANILA, Philippines — "Hindi ako mayabang."
This was the answer of former jueteng whistleblower Sandra Cam following public criticism of her reported behavior at the Ninoy Aquino International Airport after airport staff reportedly failed to recognize her.
Cam admitted that she got irritated and raised her voice at the young airport employee because of what she called rude behavior. The airport employee allegedly repeatedly asked the whistleblower for her government ID while she was on the phone.
"Of course, I raised my voice. But it's not true that I was bragging that I will be a Cabinet secretary or in the government after three months," Cam, who ran and lost in the 2016 senatorial elections, said.
"I'm not a mayabang person. I'm very simple," Cam said.
She said that she did not brag about her supposedly forthcoming appointment to a government post. She also denied that she threatened to have airport staff removed from their positions. She described media reports on the incident as a "big lie" and criticized the reporter for "adding in" the part in which she allegedly boasted about a Cabinet position in the offing.
"This is a big, big lie. It's not that I made yabang because I'm not mayabang anyway," she told the television station.
Over the weekend, a newspaper reported that Cam blew her top last month after airport personnel failed to extend to her VIP treatment she was expecting.
The story, based on an MIAA incident report, said that Cam gave airport personnel a severe tongue lashing spiced with invectives. She was even reported to have mentioned the name of Bong Go, the special assistant to President Rodrigo Duterte.
"I told her you are working with a public service. You should know how to deal with people. But the way she approached me was really very rude. I was on the phone telling me please give me your government ID which I don't have. I'm not a government official," she answered, when asked if she threatened to have anyone removed from his or her post.
Airport staff sometimes ask to see passports, driver's licenses or other government-issued IDs to verify a passenger's identity.
Cam narrated that a member of airport security escorted her to the VIP lounge of NAIA Terminal 4 upon seeing her alone after her security was not allowed to enter the airport.
It was during her stay in the "small" room of the "small" airport when the reported incident happened, said Cam.
"An airport policeman approached me and escorted me to the VIP lounge. Anybody can attack me outside. That's the main reason," she said.
She also blasted the airport for asking her to pay P1,200 for her short stay in the VIP lounge, during which she was not even given water or coffee.
"It's easy for me to pay but why should I pay? Charging me P1,200 for few minutes in that small room without a glass of water, without a cup of coffee, and then for P1,200," Cam, who stressed several during the interview that she is not arrogant, said.
She also said that she even asked the airport employee to search her name on Google so she would recognize the whistleblower.
She said that she was a simple person whose heart was always for the needy.
"I'm a very simple person whose heart is really for the poor, the needy and those that have been oppressed. And people who know me even my own family they don't even know what position I will be getting in this government. I have proven myself for two administrations. I'm working hard to stop corruption without asking for anything in return," Cam declared.
Cam also said that her appointment to a government or Cabinet post was up to the president, who said over the weekend that there was not opening in his official family but offered to help her find a job.
"Whatever he will give me and if I think that I'm suitable to that position I might accept," said Cam who emphasized that she would never ask for any position because she could still serve the people even if she was outside of it.
"What I'm doing right now is pro bono, free. It's coming from the heart."