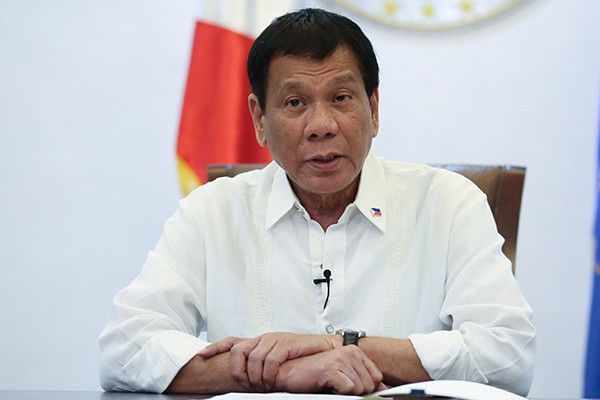 President Rodrigo Duterte denies the allegations of Sen. Antonio Trillanes IV's that he has P2-billion worth of bank deposits under his name. President Duterte issued the statement at the Presidential Guest House in Panacan, Davao City on Feb. 16, 2017.
Toto Lozano/Presidential Photo
Duterte open to release bank transactions
MANILA, Philippines — President Rodrigo Duterte is open to releasing the transaction history of his bank accounts, Malacañang said Sunday after his critic, Sen. Antonio Trillanes IV, had challenged him to prove that he has no hidden wealth.
Trillanes has accused Duterte of not declaring the P2 billion in his bank accounts, an amount that the senator claimed was obtained illegally. He made the same accusation days before the May 2016 polls, where Duterte won by a landslide.
The president has dismissed Trillanes' allegations as rehashed issues and even vowed to resign if the senator can prove that he has even half a billion in his bank accounts.
Asked by government radio station dzRB if Duterte would release his bank account's transaction history, presidential spokesman Ernesto Abella replied: "That's his call. I guess he said anything but I suppose he will, yes."
Abella could not say though when the president expects the Anti-Money Laundering Council (AMLC) to complete its probe on his wealth and whether he would file charges against Trillanes if his allegations are proven false.
"I don't know about the filing of charges but it—everything depends on AMLC I suppose right now to do what they need to do," he said.
Chief Presidential Legal Counsel Salvador Panelo had said it would now be up to the banks to decide whether to release documents detailing Duterte's transactions because the president has already signed a waiver allowing them to release such information.
Flip-flopping on family wealth?
Abella also claimed that Duterte did not contradict himself when he told Trillanes that he is not poor because he got an inheritance from his father, former Davao governor Vicente Duterte.
"First, he did not flip-flop. It's just an explanation of how the family progress as a family. When they arrived in Mindanao, especially when Rodrigo Duterte was still young, as a young man, they did not have any luxury, they did not enjoy a lavish lifestyle, they were not rich," Abella said.
"Because the parents are immigrants, they have not earned money yet. So they really had nothing - not really nothing but they have salaries and all that but they were government employees so there was nothing there," he added.
Abella said Duterte's parents managed to have some savings which were then left to him after his father died.
In previous speeches, Duterte, who vowed to put an end to corruption, said that his family was not well-off.
"Actually, we talk on the same wavelength. Ako po'y anak lang ng mahirap. Ang tatay ko'y pumunta ng Mindanao 'nong binata pa, married a Mindanaoan, and 'yun ang buhay namin talagang mahirap (I am a son of poor parents My father went to Mindanao when he was still a bachelor, married a Mindanaoan and our life then was really poor)," the president said during a gathering of anti-drug community volunteers in Angeles City, Pampanga last December 22.
Duterte also claimed during the event that a house of his family was demolished.
"At one time in our lives, ang aming bahay (our house) was demolished also, because my father thought, being a lawyer at that, na akala niya 'yung (he thought) wetland… Akala niya bakante, 'yun pala may-ari na (He thought it was vacant. It turned out, somebody owned it already)," the president said.
Last week, Duterte said he has ordered the AMLC to give information about his worth to dispel notions that he has ill-gotten wealth.