Rody on health: Just fooling media
December 19, 2016 | 12:00am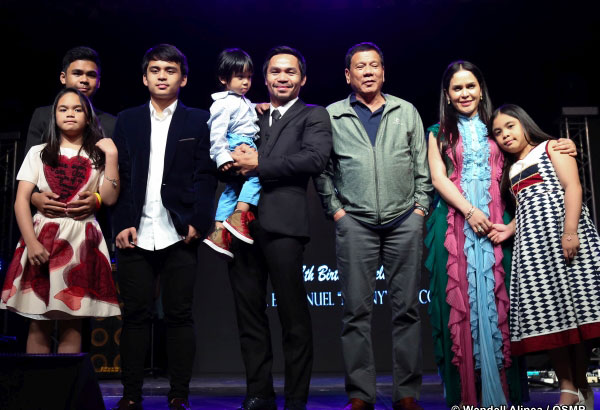 MANILA, Philippines – He was just fooling around – and the press swallowed it.
Amid calls for the release of his medical records, President Duterte said that he was just fooling the media.
During the birthday celebration of Sen. Manny Pacquiao in General Santos City on Saturday, Duterte became defensive about his health while he was talking about how he hates long travels.
"I don't like going places. I'm contented staying inside my house. After that, go to After Dark bar, but I can't drink," Duterte said, referring to his favorite hangout in Davao City.
"After that, there will be intrigues. I say I am sick and it will become a headline: 'Duterte will die.' Gago. Fools, I just made up that story and you believed it," he remarked.
The 71-year-old Duterte, who has had a love-hate relationship with journalists, said "buwang" or crazy reporters write everything he says.
"I toy with these crazies because they pick up whatever I say. That's true," he said.
Last week, Duterte admitted suffering from daily migraine and spinal pain. He said his doctor had advised him to undergo an operation but his partner, Honeylet Avanceña warned him that many surgeries on the spine have gone awry.
Duterte on Monday revealed that he used to take fentanyl, often prescribed for cancer pain and other chronic ailments, because of a spinal injury from previous motorcycle accidents.
Fentanyl is a highly potent and addictive painkiller, which is estimated to be up to 100 times stronger than morphine.
Fentanyl became controversial after pop legend Prince died of an accidental overdose of the drug in April.
Duterte however said his doctor made him stop using it on learning he was "abusing the drug" by using more than the prescribed patches.
Presidential spokesman Ernesto Abella has said that there is nothing serious about Duterte's health issues.
Duterte has also belied rumors that he has cancer but has admitted having Buerger's disease, a cardiovascular illness characterized by inflammation of blood vessels usually due to smoking.
Duterte cited ill health as the reason for skipping events during summits abroad. In Cambodia last week, he said he might not even finish his six-year term.
A national concern
Lawmakers said Duterte's remarks revived speculation about his health, including rumors during the election campaign that he suffered from cancer – a claim Duterte repeatedly denied.
Sen. Panfilo Lacson has asked Duterte to release his medical records, calling the President's state of health "a national concern."
Sen. Leila de Lima agreed and said Malacañang is required to reveal Duterte's true state of health as mandated by the Constitution.
She said Malacañang must make a clear statement on the issue as Duterte is known to have skipped certain public events and duties.
"They can argue that the events he missed were not critical, but it remains a fact that he has been rendered unable to work before," De Lima said.
"When the Constitution says 'serious illness' it doesn't have to be a terminal one – if it impacts negatively on the President's ability to discharge his duties, it is obviously a matter of national concern, and the public should be kept informed about his state of health," she added.
De Lima said Duterte's use of fentanyl is a cause of worry as the drug is known to have side effects that may affect his lucidity and ability to make decisions with a clear mind.
"To end this speculation, it would be better if his physician explains how the President manages the pain that he suffers," Bayan Muna party-list Rep. Carlos Zarate added.
Zarate said a medical bulletin would clarify the state of Duterte's health.
Sen. Antonio Trillanes said Duterte's admission that he took more than the prescribed fentanyl dosage showed he "qualified as a drug addict."
However Duterte on Saturday denied any addiction.
"When there's regularity, my friend, when you take it and when there's a monkey on your back, that's addiction," Duterte told a BBC reporter.
Doctors said fentanyl is a highly regulated drug with physicians needing a license from the drug agency to prescribe it.
"The ones using (fentanyl) are usually people with harrowing pain or terminal diseases. Doctor monitoring manages risks of addiction," said Leo Olarte, former president of the Philippine Medical Association.
"A (presidential) medical bulletin is good so the public won't be rattled," Olarte said. – Alexis Romero, Paolo Romero