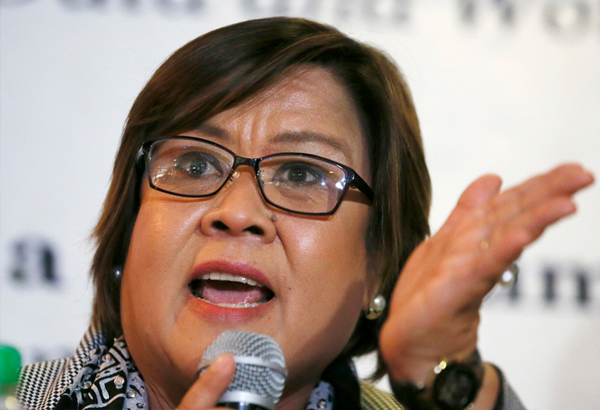 House officials led by Speaker Pantaleon Alvarez filed the complaint yesterday as they sought Sen. Leila de Lima's indictment for violating Article 150 of the Revised Penal Code or disobedience to summons issued by Congress, its committee or subcommittees. AP Photo/Bullit Marquez
House leaders file new criminal complaint vs Leila
Edu Punay
(The Philippine Star) - December 14, 2016 - 12:00am
MANILA, Philippines – Sen. Leila de Lima is facing yet another criminal complaint before the Department of Justice (DOJ), this time for allegedly trying to prevent her former driver-lover Ronnie Dayan from testifying in the House of Representatives' inquiry on the illegal drug trade inside the New Bilibid Prison.
House officials led by Speaker Pantaleon Alvarez filed the complaint yesterday as they sought De Lima's indictment for violating Article 150 of the Revised Penal Code or disobedience to summons issued by Congress, its committee or subcommittees.
De Lima, who is currently in the US to receive a citation as one of the 100 leading global thinkers for 2016 by Foreign Policy magazine, dismissed the move as only an attempt "to save face" as the House hearings on her alleged involvement in the illicit trade "were exposed to be all of a farce."
Alvarez alleged that the advice given by De Lima to Dayan to continue hiding and not attend the House probe – which she has publicly admitted – constitutes such criminal act.
"As an incumbent senator, former secretary of justice and a lawyer, advising and inducing Mr. Dayan to hide and not to attend and/or appear in the House inquiry for which he was duly summoned is tantamount to inducing disobedience to summons issued by Congress, of which she is a sitting member," read the five-page complaint.
The complaint also cited De Lima's repeated refusal to attend the House inquiry conducted in the last three months despite repeated summons.
"Respondent opted to ignore all invitations and failed to attend any of the hearings conducted by the committee. Worse, (she) even insulted the House of Representatives by calling its committee a kangaroo court/committee and its proceedings a sham," the complaint stressed.
Under the law, such criminal offense is punishable by imprisonment of up to six months and/or a fine of up to P100,000.
De Lima countered, saying, "As I have repeatedly said, the first casualty of the administration's 'war on drugs' is the truth. And it seems those in power are determined to do everything they could to accomplish their personal and political agendas."
She reiterated that as a former chair of the Commission on Human Rights and justice secretary, and now a senator, she will never break her oath as a public servant.
Despite the attacks, she added, her honor and integrity as a woman and as a public official remain intact.
House Majority Leader and Ilocos Norte Rep. Rodolfo Fariñas and House committee on justice chairman and Oriental Mindoro Rep. Reynaldo Umali joined Alvarez in filing the complaint.
On the same grounds, the House leaders also filed an ethics complaint before the Senate against De Lima last Monday.
Senate Majority Leader Vicente Sotto III, who chairs the ethics committee, said the panel will act quickly on the complaint, adding the process may involve hearings with De Lima.
If the committee decides to sanction De Lima, she may be slapped with penalties ranging from admonition to expulsion.
Sen. Franklin Drilon, who is De Lima's partymate in the Liberal Party, said the ethics proceedings are adversarial hearings – a process where one is questioned and cross-examined as if in court – because this involves the integrity of a member of the Senate.
In an interview with reporters in the DOJ, Umali clarified that the filing of cases against De Lima was not meant to harass her. – With Paolo Romero