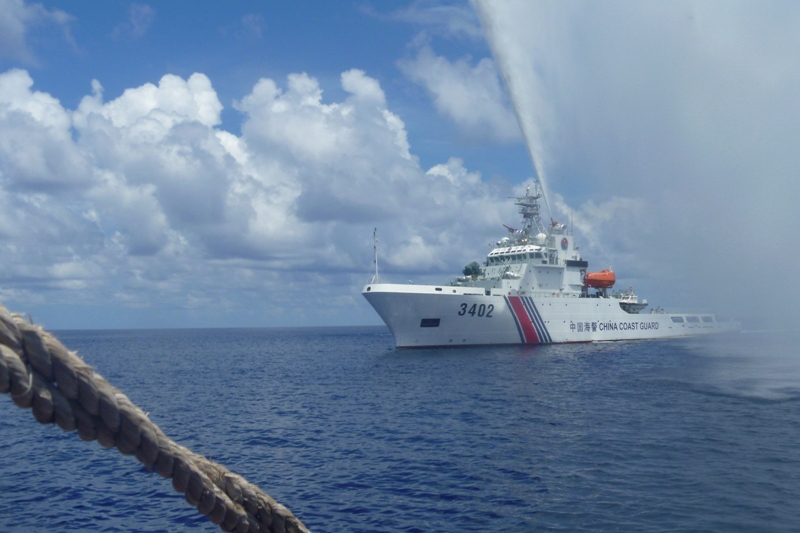 In this Sept. 23, 2015, file photo, Chinese Coast Guard members approach Filipino fishermen as they confront each other off Scarborough Shoal in the South China Sea, also called the West Philippine Sea. Philippine President Rodrigo Duterte, who has considerably reduced tensions with China over contested South China Sea waters, says he plans to declare a marine sanctuary at the disputed Scarborough Shoal. Such a move would keep away both Filipino and Chinese fishermen and prevent China from constructing any facilities, like it did on seven other features farther south in the Spratly archipelago. AP/Renato Etac, File
Think tank calls views on Duterte's pivot to China 'too simplistic'
Levi A. So
(philstar.com) - December 11, 2016 - 4:45pm
MANILA, Philippines — Observations that the Philippines is cozying up to China and veering away from allies like the United States (US) and Japan under President Rodrigo Duterte are too simplistic, a think tank director said.
Shingo Yamagami, acting director general of the foreign affairs think tank Japan Institute of International Affairs (JIIA), said that such observations from the foreign press are "too simplistic and off the mark."
Japan and China lay claim to a group of islands which is called Senkaku by Tokyo and Diaoyu by Beijing. Meanwhile, Vietnam and China have disputes over Paracel Islands called as Xisha by Beijing and Hoàng Sa by Hanoi.
"Before President Duterte went to Beijing, he went to Hanoi. After his trip to Beijing, he came to Tokyo. You may have seen the text of the Philippine-Japan joint statement issued by Prime Minister [Shinzo] Abe and President Duterte. It is perfect. Perfect from Japanese viewpoint as well," Yamagami said Thursday at the Pilipinas Conference by Stratbase ADR Institute.
The Philippines-Japan joint statement issued in October tackled the South China Sea and the arbitral tribunal ruling. It stated the commitment of the two countries in upholding freedom of navigation and overflight in the sea lanes of South China Sea.
They also agreed in pursuing a rules-based approach to the peaceful settlement of maritime disputes. Similar commitments were made in the Philippines-China joint statement during Duterte's state visit to Beijing.
Yamagami, however, said it is a natural move for the Philippines to maintain close trade and investment relationships with China, an emerging power in East Asia.
What is important, according to him, is to speak up on issues of political and security significance as parties keep close trade and investment pacts with China.