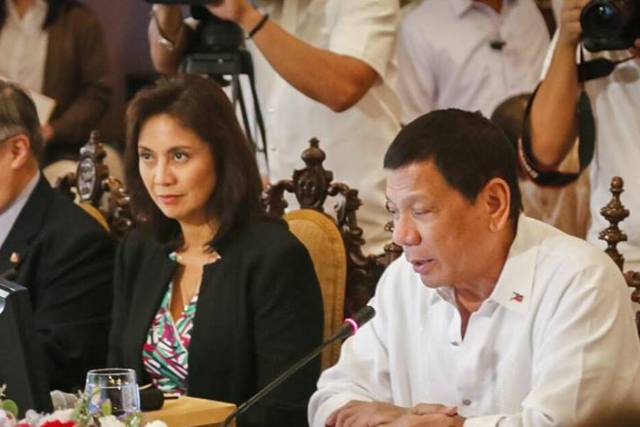 "I will assure Leni and the rest of the Bicol region that you will have her until the very end of her term," President Duterte said in a chance interview in Albay yesterday. "And there is no such thing as removing a Vice President. What's the crime?" Office of the Vice President/Released, file
Rody assures Leni she'll finish VP term
MANILA, Philippines - President Duterte yesterday vowed to retain the country's Vice President until her term ends, days after she resigned from the Cabinet complaining of a "plot to steal" her position.
Vice President Leni Robredo resigned as housing secretary on Monday, saying she would still support the President but would challenge some policies, such as the deadly war on drugs and moves to reinstate the death penalty.
There is no plot to unseat Robredo, Duterte said, adding that he has no quarrel with her despite his decision to exclude her from Cabinet meetings.
"I will assure Leni and the rest of the Bicol region that you will have her until the very end of her term," Duterte said in a chance interview in Albay yesterday. "And there is no such thing as removing a Vice President. What's the crime?"
On Sunday, Robredo said Duterte had barred her from attending Cabinet meetings, prompting her to quit as chair of the Housing and Urban Development Coordinating Council (HUDCC).
Malacañang officials explained that Duterte made the decision because of "irreconcilable differences" with the Vice President. Presidential spokesman Ernesto Abella said that Duterte was "uncomfortable" with some of her "engagement with certain political actions."
The Vice President has been critical of the administration, especially in relation to the alleged extrajudicial killings and the burial of former president Ferdinand Marcos, father of her rival former senator Ferdinand "Bongbong" Marcos Jr., at the Libingan ng mga Bayani in Taguig City.
Robredo also claimed that plots to steal the vice presidency from her are now in motion. Earlier, she said she chose to ignore the warnings about the plans to unseat her so she could focus on her job at HUDCC.
"We had hoped this day would not come. I had been warned of a plot to steal the vice presidency. I have chosen to ignore this and focus on the job at hand. But the events of the recent days indicate that this plot is now being set into motion," she was quoted saying.
Robredo is facing an election protest before the Supreme Court filed by former senator Marcos, whom she defeated by a slim margin of more than 200,000 votes.
Robredo has criticized Duterte's decision to allow the burial of the late dictator at the heroes' cemetery.
Robredo has also called out the President for making what she described as "tasteless" and "inappropriate" remarks about her knees and her outfit.
Robredo is a member of the Liberal Party, the dominant political group during the previous administration.
No rift
Despite their parting of ways, Duterte claimed that he has no rift with Robredo.
"I don't have any quarrel with Leni. I don't want to pick a fight with a lady," the President said.
Duterte, however, claimed that the demonstrations were staged by "yellows" or people identified with the previous administration to oust him.
Early this week, Duterte's spokespersons claimed that Robredo's exclusion from Cabinet meetings had nothing to do with alleged plots to take away the vice presidency from her.
"I don't know about the plot, but I think that's quite stretched," Abella said in a chance interview.
"That may be her opinion. But as far as I know from the Cabinet part, (there's no plan to unseat her)."
Robredo was a one-term congresswoman from Naga City, located in Bicol.
In earlier speeches, Duterte also accused the opposition of using street protests against the Marcos burial as a pretext to force him out of office and make way for Robredo.
The 52-year-old Robredo did not give details of the alleged plot to "steal" the vice presidency, but said it was telling that Marcos had accompanied Duterte on an official visit to China in October, during which the President said he could be the vice president by next year.
Her camp also expressed alarm over the reported plan to recount the votes in last May's vice presidential race without the "direction" of the Supreme Court sitting as Presidential Election Tribunal.
Robredo did not give details of the supposed plot to snatch the vice presidency from her, but she mentioned "obstacles" that made her job as housing chief difficult.
She noted that in barely five months since she took over the helm at the HUDCC, the housing agencies had made "solid" accomplishments even as she thought Duterte would support her despite their differences on issues related to housing.
Robredo also said that all her recommended appointments for key shelter agencies have not been acted on by Malacañang.
Mentioning her policy differences with Duterte, Robredo said she took the job as housing secretary hoping that "this shared commitment to the poor and marginalized would transcend the differences between us."
Last month, Robredo slammed Duterte after he joked about her legs and smooth knees.
"Tasteless remarks and inappropriate advances against women should have no place in our society. We should expect that most of all from our leaders," she said.
Robredo, however, vowed to continue supporting the "positive initiatives" of the administration even after resigning from Duterte's Cabinet.