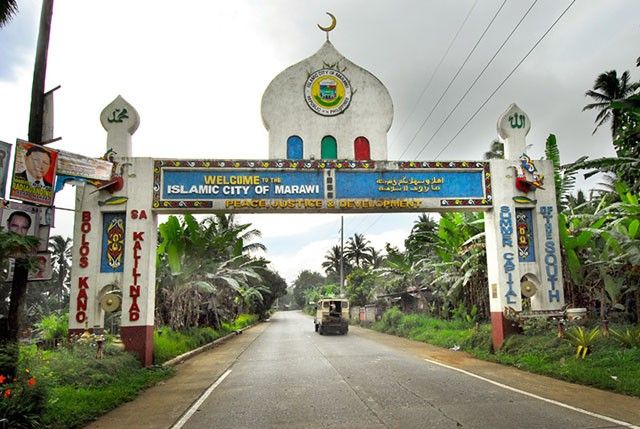 Gateway to Lanao del Sur, a component province of the Autonomous Region in Muslim Mindanao.
Philstar.com/John Unson
Duterte's advance party injured by IED blast in Marawi
MANILA, Philippines — (Updated 2:22 p.m.) An improvised explosive device detonated Tuesday morning near a military convoy headed to Marawi City, capital of Lanao Del Sur, in preparation for President Rodrigo Duterte's visit there.
According to Armed Forces of the Philippines spokesperson Brig. Gen. Restituto Padilla, one of the vehicles in the convoy was damaged at around 10:30 a.m. by an improvised explosive device (IED) planted along the road.
In the group were seven members of the PSG and two soldiers who were acting as the advance party for Duterte's scheduled visit on Wednesday, November 30.
Chief Supt. Agripino Javier, regional police director for the Autonomous Region in Muslim Mindanao, said the IED was set off along a road in Barangay Emi Punod here, while a convoy carrying personnel of the Presidential Security Group (PSG) and government broadcaster RTVM were traversing the road.
"The convoy was ambushed using an IED while traversing from Iligan City to Marawi City," he said in a text message.
"Dahil dito may siyam po na nasugatan. Pito sa kanila taga-PSG, [dalawang] escort nilang tropa," Padilla said in an interview with radio dzBB.
Maj. Filemon Tan Jr., spokesperson of the Western Mindanao Command (Westmincom), meanwhile, said the PSG members and soldiers were escorting the RTVM personnel on their way to the Army 103rd Infantry Brigade (103rd IB) post when the IED was detonated along the road in Barangay Matampay.
The 103rd Infantry Brigade has been battling the terrorist Maute group since the militants attempted to occupy the old town hall of Butig last Saturday.
According to the AFP, most were only slightly injured except for one member of the PSG who sustained serious injuires. A presidential chopper airlifted the seriously injured together with four others to an undisclosed medical facility to receive care.
Padilla said the president's visit will be postponed until troops deployed to the area agree that it's safe.
Earlier reports said that the president is set to visit Lanao del Sur but did not say when.
"Importante ang seguridad ng commander-in-chief natin," Padilla said.
Padilla added that the bomb attack may be a form of harassment by the Maute group. The military said Monday that soldiers had already retaken the Butig town hall, where the militants had raised their black flag.
The IED explosion was initially reported by local police as an ambush, with an "[u]ndetermined number of armed suspects [firing] upon the Army convoy." Local police were reportedly dispatched to the area to provide assistance.
The Philippine National Police public information office later clarified that there was no firefight. -- with a report by Roel Pareño