Federalism: What Filipinos need to know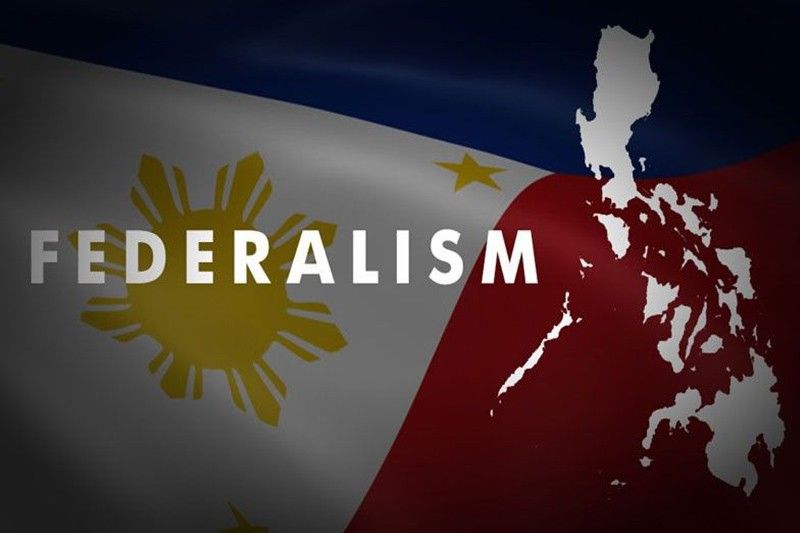 MANILA, Philippines — Incoming president Rodrigo Duterte is an ardent advocate of federalism.
Long before he decided to run, Duterte made rounds in the country to promote it. It was during these listening tours that he would float "if I were president" scenarios, which kept people guessing whether he would run or not.
When he finally decided to run, one of the reasons Duterte said prompted him to do so was that he was asked by his party, Partido Demokratiko Pilipino-Lakas ng Bayan (PDP-Laban), to carry the torch of federalism.
His pitch for it mainly involves two things: economic development not just for Metro Manila but for all the regions and peace, particularly in the south.
In a nutshell, what is federalism?
Currently, the Philippines employs a unitary form of government with much of the power — decisions, policies, and programs — emerging from the central government.
Under federalism, however, power is divided or shared between the central government and local state governments.
Countries that employ a federal system of government includes the United States, Australia, Austria, Germany, Ethiopia, Brazil, Canada, Malaysia, India, and Mexico, among others.
In the US, the national government has sole power or authority to print money, declare war, maintain the armed forces, enter into treaties with foreign governments, regulate interstates and international trade, and establish a postal system.
A power that states have, meanwhile, is to establish their own local governments. The power to tax, regulate business, set up courts, and build and maintain roads, among others, are shared by the national government and the local state government.
What is the argument of those pushing for federalism in the Philippines?
Budget and fiscal autonomy have been a long-standing issue among local government units (LGUs) in the country, according to political analyst Jan Robert Go, assistant professor of political science at the University of the Philippines Diliman.
And most of the time, programs of the national government are "downloaded" to lower-income municipalities without the benefit of evaluating whether they are applicable and sustainable, he added.
One contention of federalism advocates is that major tax revenues are turned over to the national government.
The Bureau of Internal Revenue (BIR) collects national internal revenue taxes which include income tax, estate and donor's taxes, value-added tax, other percentage taxes, excise taxes, documentary stamp taxes, and such other taxes that may be imposed and collected by the BIR.
The pooled collection of national internal revenue taxes is split 60-40, with 60 percent going to the national government and 40 percent to the LGUs through the internal revenue allotment or IRA. This distribution of the IRA is also contested by federalism advocates.
In one interview, Duterte said it was unfair that what Davao City gets from the IRA wasn't even at par compared to the amount it remits to the national government.
LGUs are seen as the primary service providers but if funds are lacking, these services may be difficult to run and be provided to the public, Go said.
There have been attempts in the past to raise the IRA share given to local governments. One of which was by Duterte's party mate, PDP-Laban founder and former Sen. Aquilino Pimentel Jr., who wanted it raised to 50 percent.
Attempts were also made to include in the IRA the tariff and duties collected by the Bureau of Customs to increase the share that LGUs would be getting.
Is it the road to economic growth in poorer regions?
Duterte as the first Mindanaoan president and having served as Davao City mayor for nearly two decades is seen as someone who understands the issue well.
He has described Metro Manila as "imperial" and has even refused to stay at Malacañang, saying that it is a symbol of oppression.
Federalists lament the big share Metro Manila gets compared to other regions.
A look at the 2016 national budget showed that Metro Manila got a 14.27 percent share with P428.5 billion, excluding the budget for the Office of the President, Office of the Vice President and Congress which are based in the capital region.
Meanwhile, Luzon got 20.94 percent with P628.3 billion, Visayas got 9.94 percent with P298.3 billion, and Mindanao got 13.23 percent with P396.9 billion.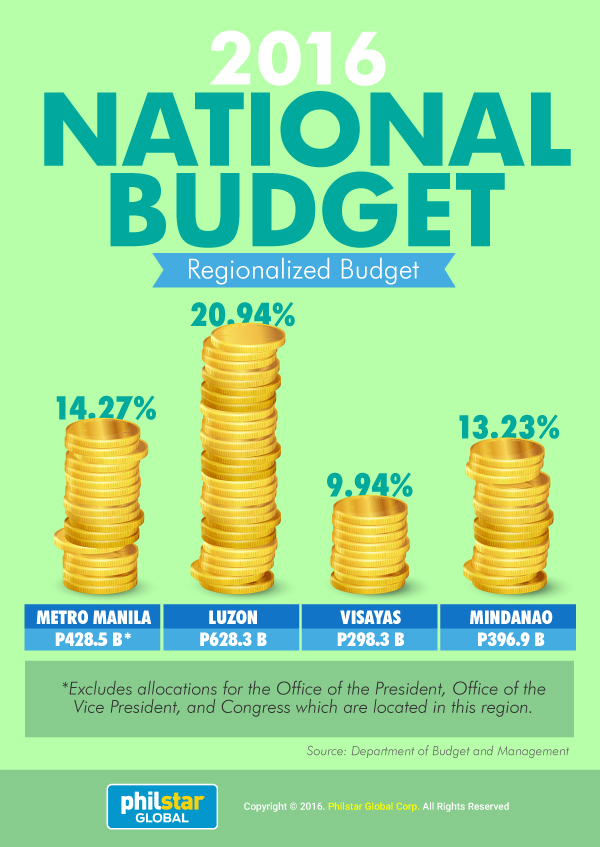 Out of the more than 100.98 million population in the country, 12.75 percent of the people are found in the densely-populated Metro Manila. Luzon, excluding Metro Manila, accounts for 44.16 percent of the population followed by Mindanao at 23.9 percent and the Visayas at 19.18 percent.
Duterte hasn't laid out how his proposed shift to federalism would go about, but in one campaign rally, he said that LGUs can keep most of their income. For every P100, the LGU would get P70 and the P30 would go to the national government, he said.
He also has yet to detail how states will be divided. But under Joint Resolution No. 10 proposed in 2008 by then Sen. Pimentel, he suggested the creation of 11 federal states out of the existing political subdivisions of the country with Metro Manila as the federal administrative region akin to Washington D.C. of the United States.
Will it bring peace to Mindanao?
Duterte argues that federalism is primarily about peace.
Poverty is seen as one of the roots of armed rebellion, considered as a national security threat by the Office of the Presidential Adviser on the Peace Process. Likewise, historical neglect and injustice are seen as factors behind the emergence of secessionist groups in Mindanao.
Philippine Statistics Authority data showed that for the first semester of 2015, 11 of the 20 poorest provinces in the country are in Mindanao. These are Lanao del Sur, Sulu, Sarangani, Bukidnon, Maguindanao, Sultan Kudarat, Zamboanga del Norte, Agusan del Sur, North Cotabato, Lanao del Norte, and Camiguin.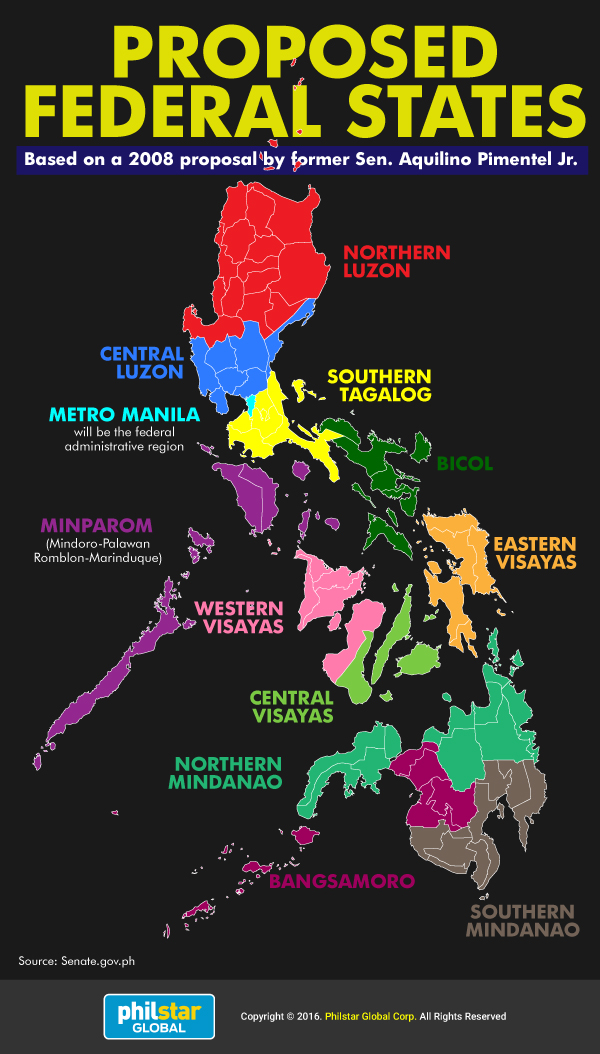 Go said that it is possible for federalism to bring peace in Mindanao but warned against making it appear like the ultimate solution.
"Insofar as autonomy and self-government are concerned, perhaps federalism may provide the framework," he said.
"But I also want to point out the agential aspect of it. Simply changing the structures, but retaining the same actors will not bring federalism far."
Criticism and efforts to push for federalism
A change in the system of government requires a constitutional change and past attempts to push for federalism in the country have failed.
In support of Joint Resolution No. 10 which got the backing of 16 senators, Bacolod Rep. Monico Puentevella filed the House Concurrent Resolution No. 15 in 2008.
Differing from the Senate resolution which called for the convening of Congress as a constituent assembly to amend the Constitution, the House version included constitutional convention as an option.
As mandated by the 1987 Constitution, constitutional amendments could be made through a constitutional assembly, constitutional convention, or people's initiative.
Then President Gloria Macapagal-Arroyo supported the constituent assembly proposal of Pimentel. Under this method, the Constitution states that any amendments to it may be proposed by Congress "upon a vote of three-fourths of all its members."
Many, however, saw Arroyo's push for charter change as a ploy to extend her term.
"Charter change is and has been a sensitive topic for us," Go explained. "Any attempts to introduce change is welcomed by protests and criticisms."
Critics are also wary that federalism will lead to fragmentation given the ethno-linguitic divide in the country.
Many are also divided on whether it could strengthen regional communities or deepen the hold of political dynasties.
"On the one hand, federalism may indeed empower local political elites and keep their hold of power. On the other hand, the creation of state governments may pose as a challenge to political families in different localities," Go explained.